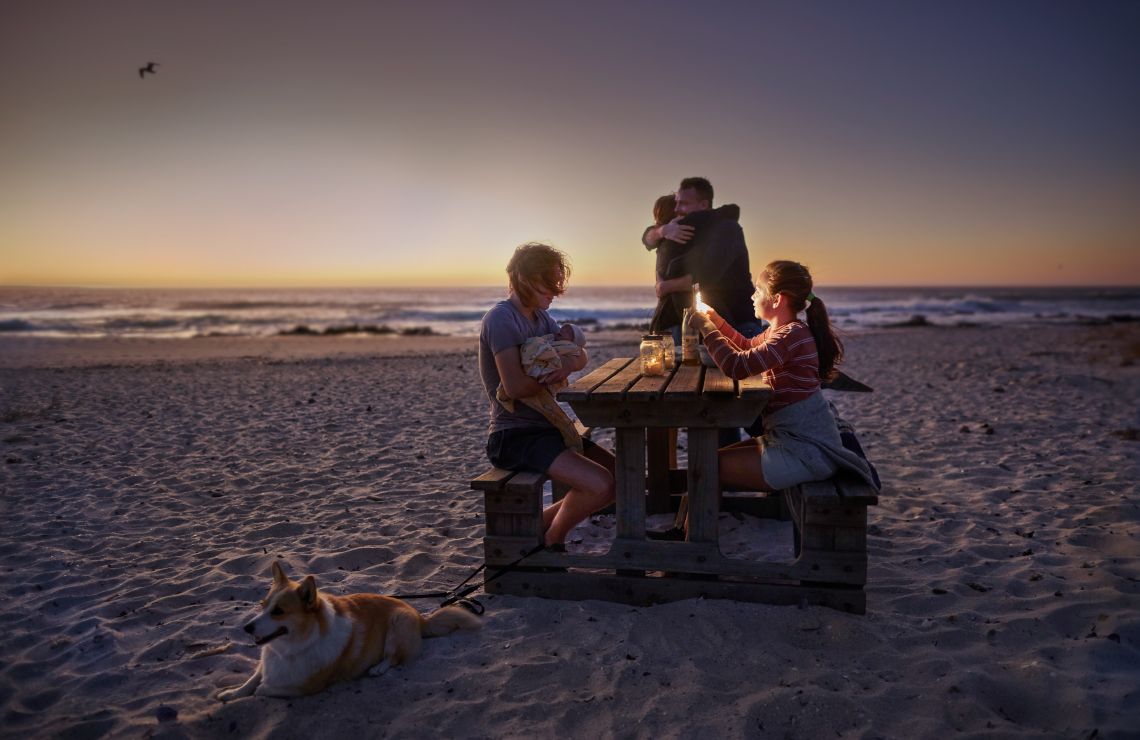 Pride and Privacy
Published: March 30, 2015
A cornerstone in human rights
Measuring what matters - social, environmental and economic performance indicators
Peace and love 2.0
A cornerstone in human rights
"Hard work pays off"
Mats Granryd, CEO and President
What are we doing differently? Others may use tricks or just big words – we keep walking the talk in a sincere and straight-forward way, every day. It is part of our legacy and very much embedded in the values and culture that conducting fair business is not just the right thing to do – it is the smart thing to do. Because we believe in doing things smart, being lean and efficient, being careful with resources – prioritizing results in the most material matters.
We won't go about tilting windmills, we want to dedicate our efforts to where we have the largest impact and furthermore accompanied responsibility. That will more specifically be our 'Focus Areas' of which privacy and freedom of expression being by far the most significant.
It is by definition the states, and Authorities, that are ultimately responsible for protecting human rights such as for example freedom of speech and freedom of assembly. Even so, we companies have an important role to play and that has been a focus, and will continue to be.
While on one hand we are strengthening our internal controls we are on the other hand lacking solid and comparable measurements – not just KPIs - from international and recognized standards. Ideally, the existing best practice frameworks and standards: the GRI, IIRC, SASB and more should have developed to G5, G6 or the IIRC 2.0 to close the still-existing-not-insignificant free space of interpretation and thereby allow solid performance to be compared over time and between entities. Until then we are comfortable with our current choices and are sticking by them, being true to the existing frameworks. But we also welcome stakeholders to challenge us and prove us wrong. That helps us develop and keeps us on our toes.
During the past two years - 2013-2014 - we have focused intensively on dialogue with the investor community to convey our perspective on a series of important matters, including privacy and anti-corruption. For 2015 and forward we intend to broaden that approach, with our aim set for customers and our own organization – it is time to talk the talk with everyone that is a stakeholder to us.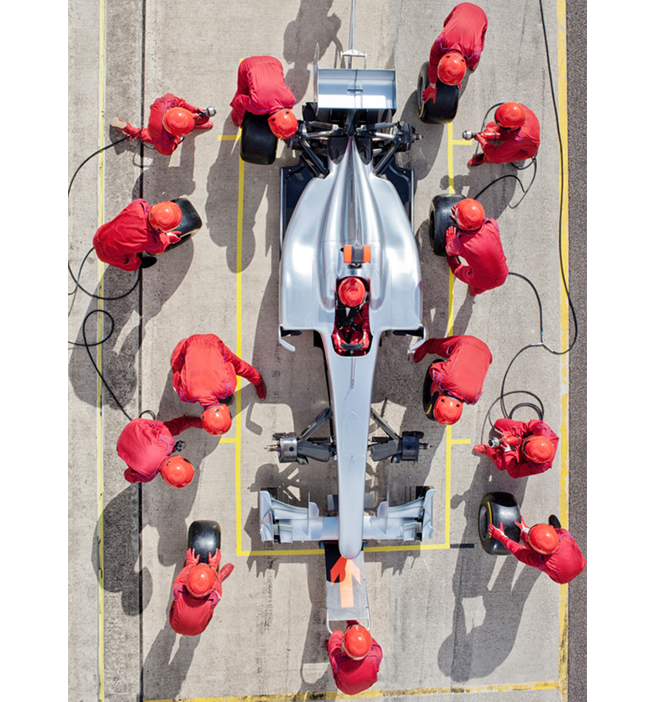 Right track
2014 was a great year for Tele2 from a CR perspective, and we received a lot of confirmation that we have chosen the right track. We received top rating in Child Protection by Global Child Forum and during the fall we were included in two leading sustainability indexes; MSCI Global Sustainability Indexes and FTSE4Good.
Everyday choices and everyday actions
What a wonderful world it would be if the term CR did not exist, because it did not have to. Because to do business in a way that is ethical is equal to do smart and profitable business, and why would anyone act differently? However, we all know that this is not the equation for every business leader and corporation today, and probably will not be tomorrow either. Despite the cheesy sound of it, at Tele2 that is however the ultimate objective – for CR to become part of our corporate DNA.
As a consequence, we continue to strive in the future to report on CR in the same way as financial information is reported today. Until that is fully possible given the maturity of the reporting standards available, we will be transparent about what we do, how we do it and where we are going.
What is assessed to be material is dynamic, and at Tele2 we keep an ear to the ground and adapt to change around us and in society. Using CR as a filter, we will keep identifying new material issues of interest to our stakeholders. Our communication will continue to evolve, and we invite you to have your say on it. And by now you should know that means that we challenge you to do so!
G4 at your service for transparency and comparability
In addition to the material CR information in Tele2's Annual Report 2014, we present accompanying information here on our website, in accordance with the G4 guidelines from the Global Reporting Initiative, level "Core".
"Conducting fair business is not just the right thing to do – it is the smart thing to do."
Marie Baumgarts, Director Corporate Responsibility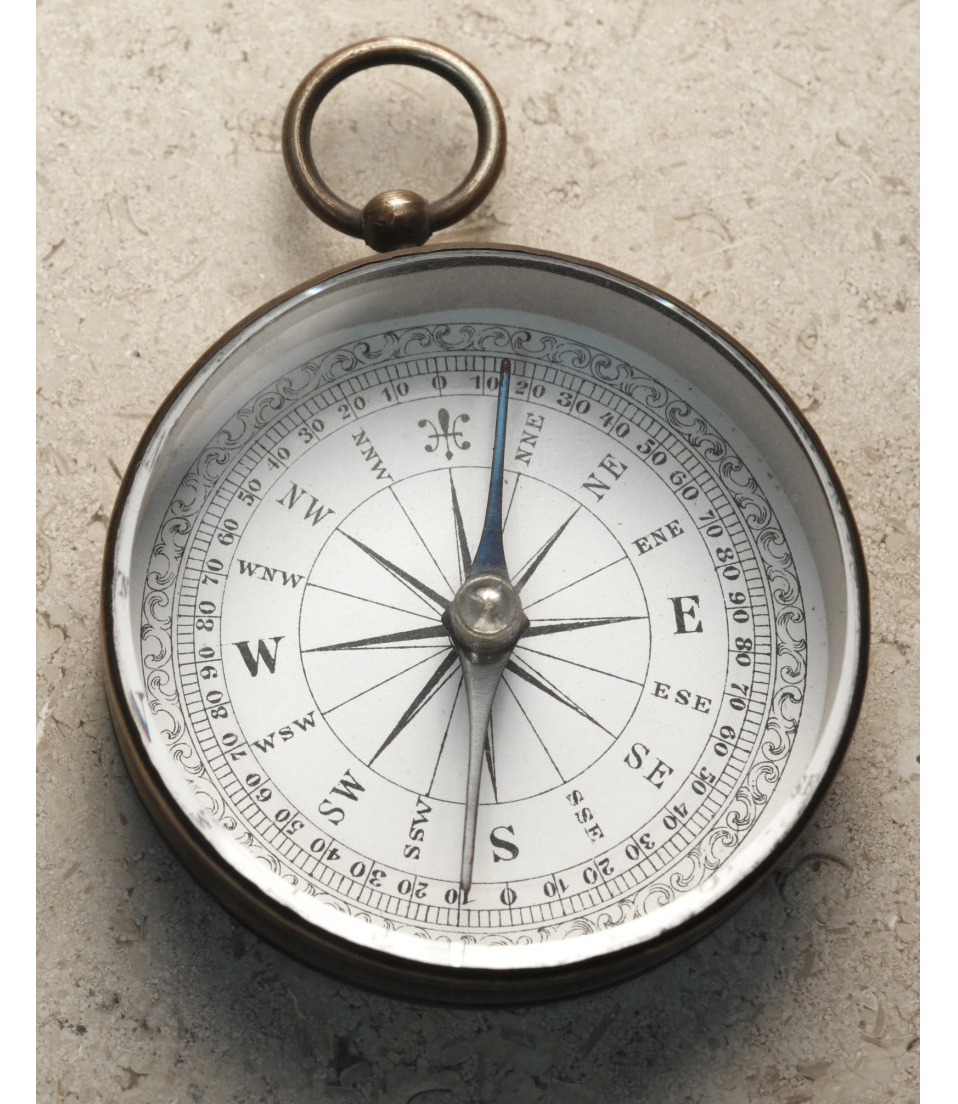 What we did in 2014
A team effort
The following text is directly from the administration report of the Tele2 annual report 2014;
Tele2's strategic CR-efforts are focused on potential risks and areas where the Group can contribute positively. Tele2's CR strategy defines the areas where added value can be created, the areas that requires compliance and identifies aspects that do not have material impact for the operations. Being explicit internally and externally about the priorities fit in with being the responsible challenger. Thereby resources are dedicated to the areas where they are best utilized, something that works well from the Board to employees. Tele2's prioritized focus areas are privacy and integrity, child protection and greenhouse gases.
Issues related to privacy and integrity have continued to dominate this years' work. Tele2 deals with questions on data protection and authorities' requests for lawful interception in all countries of operation on a regular basis. This requires continuous monitoring of law amendments and to confirm that there are always legal basis for interception, through for example court decisions. Situations when local laws diverge from the principles in the company's Code of Conduct need careful considerations to ensure Tele2 does not compromise with integrity and judgment. One example is in April 2014, when Tele2 Sweden ceased the storage of data in accordance with the Swedish law on electronic communication (LEK). The company deemed that there was no legal grounds after the law had been invalidated by the EC Court of Justice. The Court's judgment claimed that the law was in conflict with international proclaimed human rights. After the Swedish Post and Telecom Authority (PTS) filed an injunction against Tele2 Sweden in June, to resume storage of data in accordance with LEK, the company complied. As an operator Tele2 Sweden is obliged to comply with the regulatory authority's injunction, which is in accordance with the associated UN guiding principles.
These issues will continue to require evaluation, analysis and active standpoints in all countries where Tele2 operates. Tele2 is committed to being transparent and to challenge. Since more than two years, Tele2 has a clear process to assess requests for shut downs of for instance networks.
Review of the Board
The CR advisory group (CRAG) is composed of Board members Mia Brunell Livfors, Lars Berg and Carla Smits-Nusteling, who succeeded John Shakeshaft after the annual general meeting. Participating from Leadership team is CEO Mats Granryd, and Caroline Fellenius-Omnell, General Counsel. In addition, Tele2's Head of CR is part of the group. In the four ordinary CRAG meetings during the year, the discussions involved anti-corruption, human rights due diligences, regulatory compliance, development of stakeholder dialogues as well as privacy and data protection. An extra CRAG meeting also took place, to which the entire board was invited.
CRAG works close to the board's audit committee, chaired by Carla Smits-Nusteling, in matters related to data and integrity. During the year, Tele2 conducted internal audits of compliance with the data protection regulation in five of Tele2's markets.
The work to integrate CR in all the company's processes, governance and control measures has continued. Tele2's long-term objective is for the CR dimension to be taken into account in all decisions, this is a priority and Tele2 deems the progress as positive.
The responsible challenger
In 2013, Tele2 arranged Sweden's first CR Capital Market Day. During late spring in 2014, a number of stakeholders participated in dialogue on highly relevant subjects with managers, Board members as well as members of Tele2's Leadership team, at the Tele2 premises in Kista, Sweden. Themes included how the machine-to-machine (M2M/IoT) technique contribute to climate benefits, hand­ling of requests for lawful interception, child protection measures, anti-corruption and Tele2's Code of Conduct for Business Partners.
Tele2 has a zero-tolerance stance against corruption and has internal control measures to detect deviations. An intense focus on anti-corruption combined with effective control routines have shown positive results, with rare corruption incidents. During the year, one of Tele2's largest shareholders, Nordea, visited the operations in Almaty, Kazakhstan, among other things to observe the anti-corruption work on site. Tele2 values engaged investors and stakeholders, and site visits are an important measure of transparency in Tele2's CR work. Additional visits to the operations for investors are planned during first half of 2015.
No picnic, just hard work
It is Tele2's responsibility to always be up to date within relevant CR matters. During 2014, Tele2's Code of Conduct has been amended to include the Grandfather principle and the Four eyes principle to further limit the risk of for example conflicts of interest in contract agreements.
In April 2014, Tele2 received top ranking for the work with child protection in a study conducted by Boston Consulting Group on behalf of Global Child Forum. In a population of one thousand companies, Tele2 was among the fourteen to receive full score in the assessment. This is a welcomed testimony on Tele2's work. The Tele2 Group continues to comply with the objectives on blocking Child Sexual Abuse Images (CSAI) for customers and employees, and works systematically to detect such material internally.
Telecom operators have a relatively limited direct environmental impact. Tele2 can however be an enabler of environmental gains for customers through, among other things, machine-to-machine. This is a growth area that has received several new partnerships and customers during the year. One of the environmental benefits with M2M/IoT is that customers can automate, standardize and install their procedures and systems remotely which reduce energy consumption and physical travel.
Compliance with tax law is another area highlighted by NGO's and investors during the year. Tele2 comply with local tax laws and the OECD's Guidelines for Multinational Enterprises, as well as Tele2's Code of Conduct.
Do you want to challenge us?
GRI G4 Indicators, presented in Note 38, are the ones assessed to be most relevant for Tele2's stakeholders and are based on reporting from each reporting entity. The reported G4 Indicators are Diversity & equal opportunities, Environmental regulations, Corruption, Anti-competitive behaviour, anti-trust & monopoly practices, Laws & regulations, Products & services health & safety impacts, Marketing communication, advertising & sponsorship, Customer privacy & losses of customer data and Use of products & services. For additional information please refer to Note 38.
Tele2 will continue to include CR results and key performance indicators in the annual report as the information, criteria and reliability is evolving and maturing to par with financial data and information. For additional reporting and information about Tele2's CR work, see the corporate website for the 2014 GRI-index, in accordance with G4 from Global Reporting Initiative.
Crunch the numbers
Measuring what matters - social, environmental and economic performance indicators
Numbers of employees (G4-LA12)
On December 31, 2014, the number of employees in Tele2 was 5,387 (4,945) excluding Norway which 42 (37) percent women and 58 (63) percent men. A breakdown per gender and age group etc is presented below.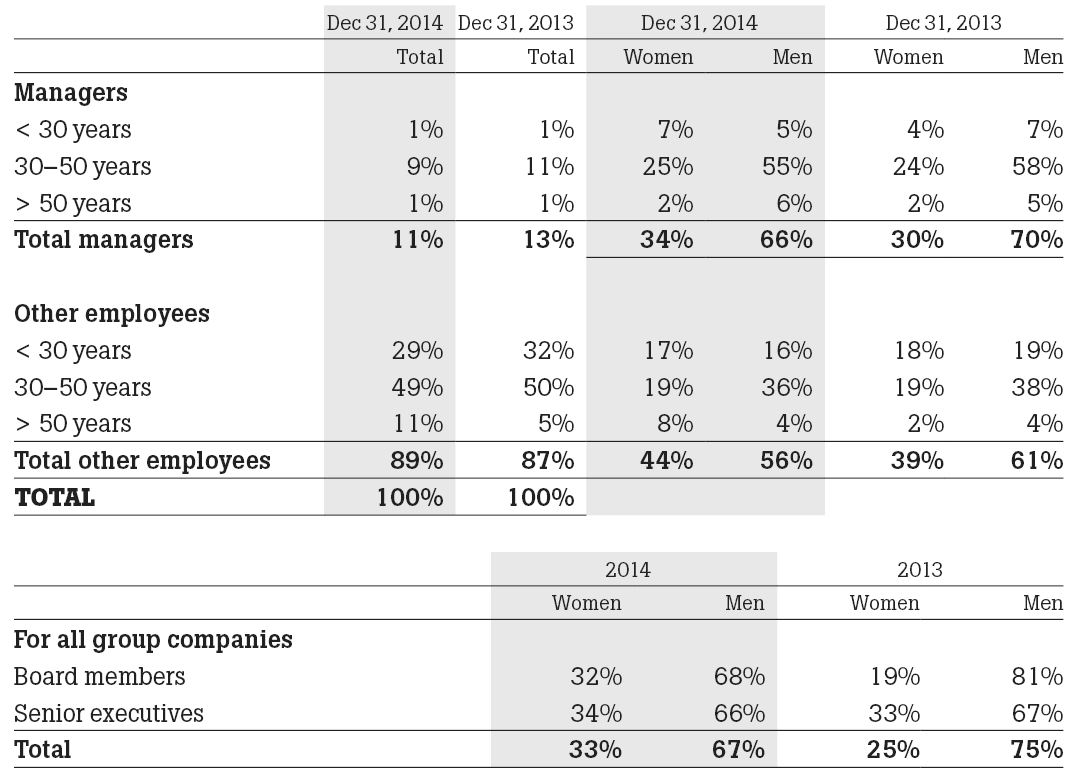 Average number of employees per region, by gender (G4-10)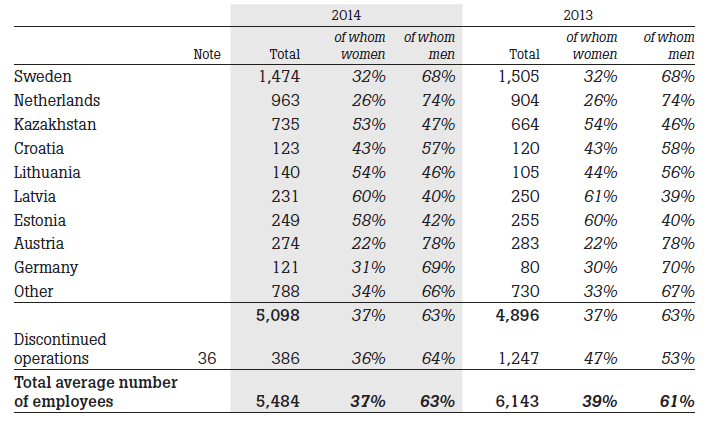 Employee turnover (G4-LA1)*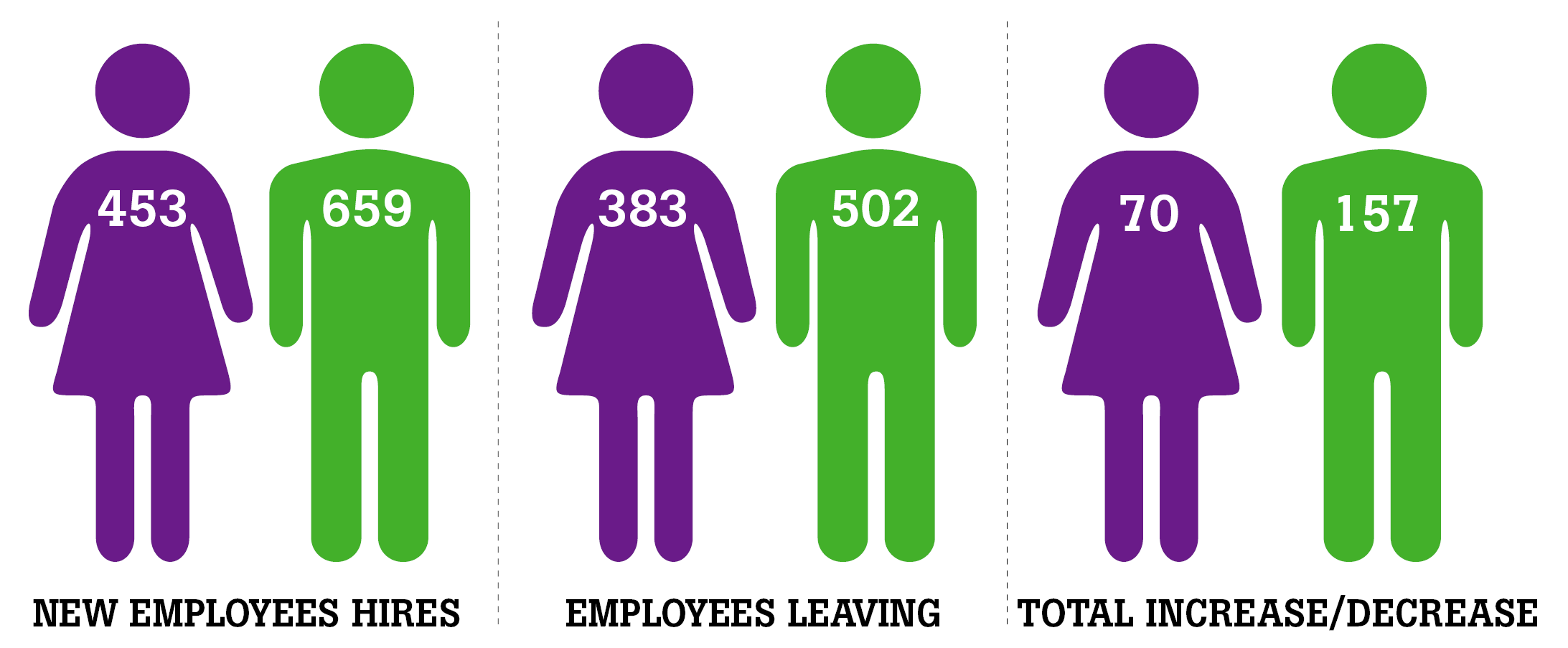 * Age and region have been left out.
Injuries and sick leave (G4-LA6)*

* Includes all countries in the group except Kazakhstan and Austria.
Diversity and equal opportunities (G4-LA12)

Discrimination (G4-HR3)
TWO
incidents of discrimination has occured during the year. Remedation plans have been implemented.
Supply chain and business partners (G3-HR2, G4-HR4, 5, 6)
The KPIs available in GRIs G4 are not optimal for us so we have chosen to do a narrative disclosure for supply chain sustainability.
Tele2 requires its significant Business Partners, with contract values exceeding 1MSEK per year, to sign the Tele2 Business Partner Code of Conduct. By doing so Tele2 includes clauses about Human Rights, Labor Rights, Anti-corruption and Environment etc. into a vast majority of its agreements with its business partners. The signing process has been mostly driven by Procurement and is described more in detail on our homepage.
Having several thousand of Business partners, we cannot fully exclude the risk of child labor, compulsory labor or violations of the rights to freedom of association and collective bargaining deep down in the value chain. Our way of managing such risks is through the Business Partners Code of conduct signing process, screening and follow up. In the BP Code we request the Business Partner to take responsibility for its supply chain.
Corruption (G4-SO5)
Tele2 has not had any reported cases of corruption during the year.
Furthermore, there has not been any reported concluded public legal cases related to corruption brought against Tele2 during the year. The Tele2 definition of corruption exclude pure telecom fraud cases. Tele2's definition of corruption is when offering, giving, soliciting, or acceptance of an inducement or reward which may influence any person to act inappropriately. For additional information please refer to Tele2's website, CR section.
Anti-competitive behavior, anti-trust, and monopoly practices (G4-SO7)
Number of reported legal actions for anti-competitive behavior, anti-trust, and monopoly practices, pending or complete, in which Tele2 has been identified as a participant during the year is stated below.

1) Significant fines are defined as exceeding EUR 250,000 (equivalent to SEK 2.3 million)
3) If we receive negative outcome, Tele2 expects the fines to be insignificant
Laws and regulations (G4-SO8)
During the year, there were two reported cases of sanction for non-compliance with applicable laws and regulations, both in Sweden where Tele2 Sweden acted in the interest of receiving an interpretation by the Court of Law. However, there were no reported cases brought through dispute resolutions.
1) Significant fines are defined as exceeding EUR 250,000 (equivalent to SEK 2.3 million)
Products and services health and safety impacts (G4-PR2)
Tele2 has has two reported non-compliance incidents concerning the product's and services' health and safety impacts during their life cycle. Both were in Kazakhstan and one resulted in a fine 2) and one in a warning. There were no reported non-compliance with voluntary codes during the year.
1) Signicant fines are defined as exceeding EUR 250,000 (equivalent to SEK 2.3 million)
2) The fines have not been significant
Customer satisfaction (G4-PR5)
82.4%
End user satisfaction rates for Q4 2013 (based on COPC Global Standard).
A result of 85% or above is classified as "high performance".
Marketing communication, avertising and sponsorship (G4-PR7)
Number of reported incidents of non-compliance regarding marketing communication, advertising and sponsorship, resulting in fines, penalties, warnings or non-compliance with voluntary code during the year are stated below.

1) Significant fines are defined as exceeding EUR 250,000 (equivalent to SEK 2.3 million)
2) The fines have not been significant 1)
Consumer privacy and losses of customer data (G4-PR8)
Number of reported substantiated complaints during the year, regarding breaches of customer privacy and losses of customer data, from outside parties and substantiated by Tele2 or regulatory bodies as well as reported leaks, thefts or losses of customer data is stated below.

None of reported issues is considered to be significant.
The use of products and services (G4-PR9)
No significant fines 1) have been reported during the year for non-compliance with laws and regulations concerning the use of products and services.
1) Significant fines are defined as exceeding EUR 250,000 (Equivalent to SEK 2.3 million)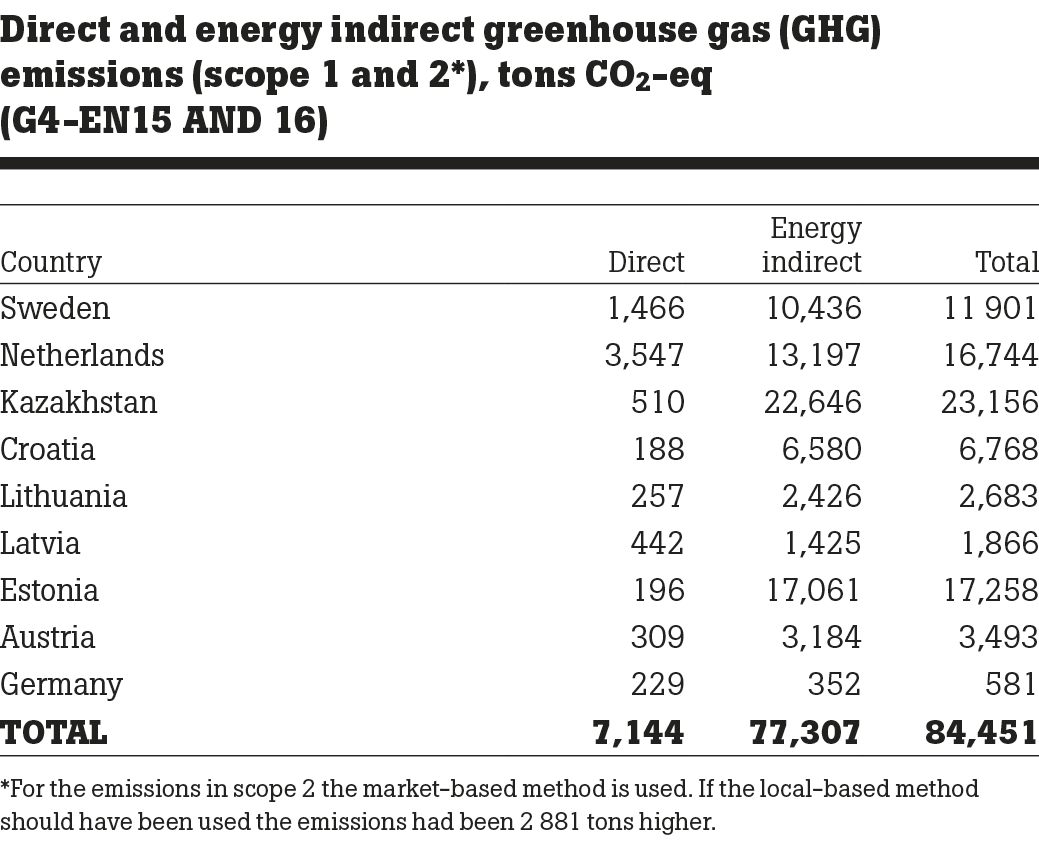 Energy consumption per energy carrier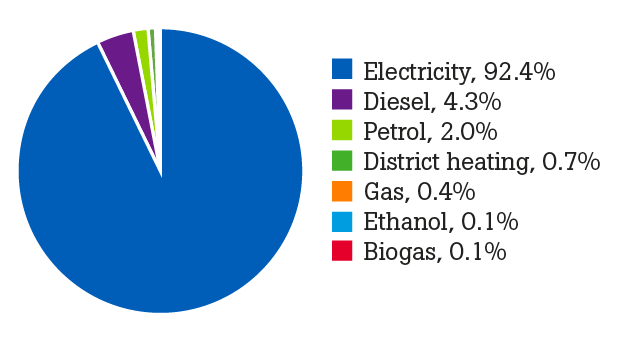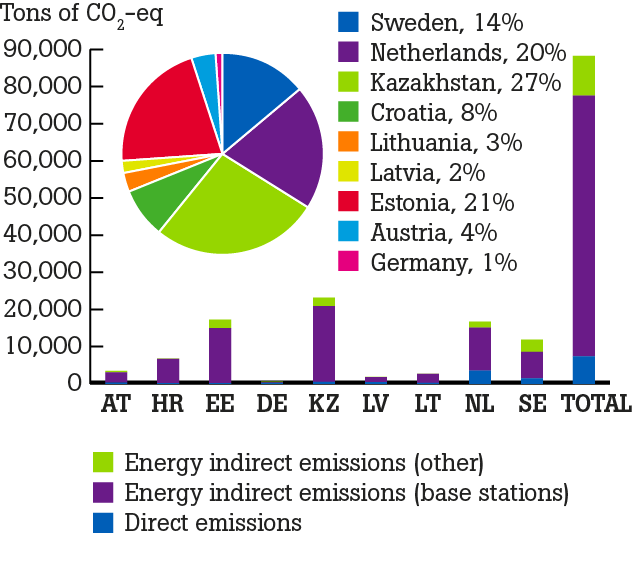 Electricity consumed in base stations, which counts for approximately 72 percent of our total emissions, is by far the largest source of indirect emissions. Based on the result in 2014, Tele2 could be said to have a potential environmental liability related to climate change of 84,451 tons of CO2-eq.
Should these emissions be regulated, for instance in a future "Kyoto agreement" in 2015 it could mean an estimated cost of 503,000 EUR for buying allowances, calculated by using today's spot price in the EU Emission Trading System (EU-ETS) (5.96 EUR, 2014 average). Since it could not be considered likely that ICTs would be included in the EU ETS, calculations on the open carbon market could mean a different price. According to the second Stern report, which was published in June 2014, the price on carbon dioxide that is needed to avoid more than 2 degree above pre-industrial levels, is 32-103$ per ton. If Tele2's emissions for 2014 where monetarily transformed with the price of 103$ per ton the cost would be 6.6 MEUR.
Environmental regulations (G4-EN29)
No significant fines 1), non-monetary sanctions or cases associated with environmental regulations brought through dispute resolution mechanisms has been reported during the year.
1) Significant fines are defined as exceeding EUR 250,000 (Equivalent to SEK 2.3 million)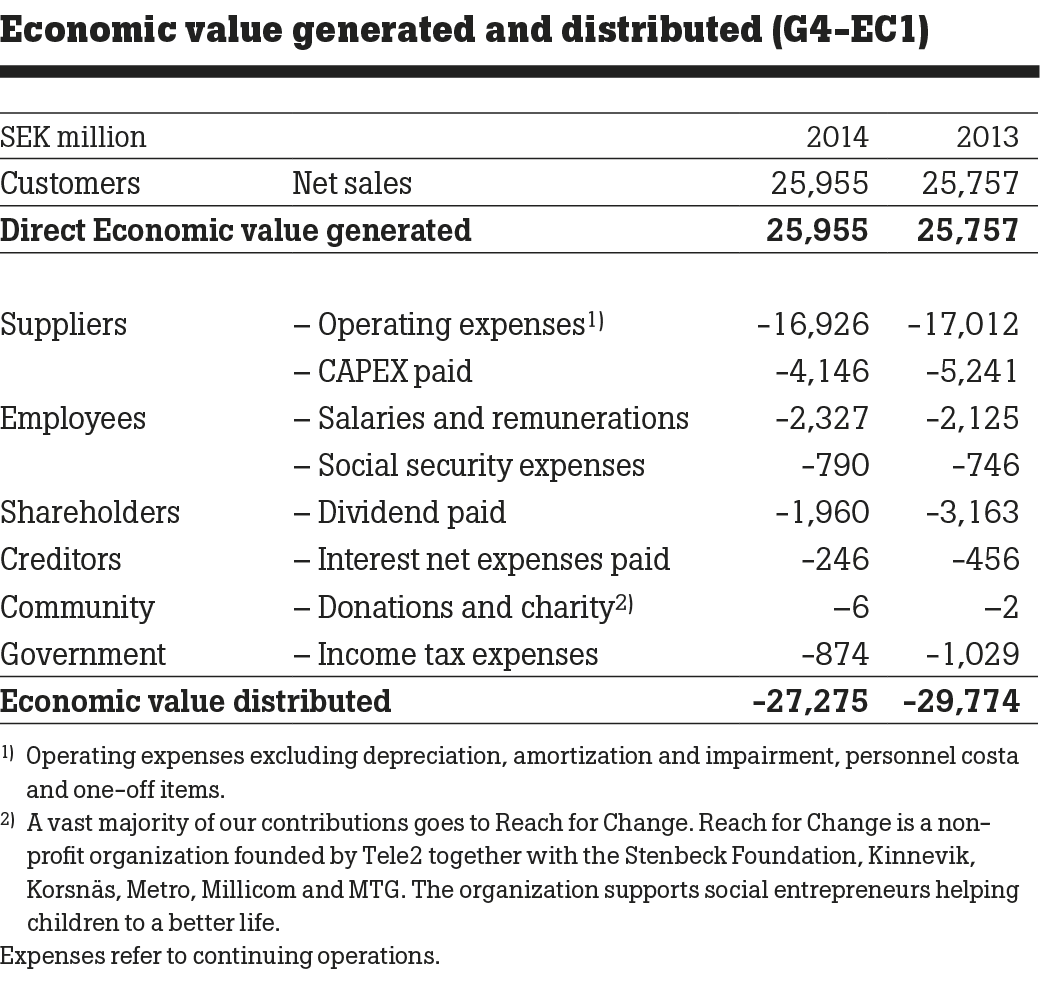 G4 starts here
Dig into our GRI index and learn about our Disclosure of Management Approach here
GRI INDEX G4 2014 – IN ACCORDANCE - CORE
General Standard Disclosures
Reference
External assurance

Strategy and analysis

G4-1 CEO statement, strategy, vision and goals

Tele2 Annual Report 2014, page 2-3

Reviewed but not under assurance

Organizational profile

G4-3 Name

Tele2 Annual Report 2014, page 8

Yes

G4-4 Brands and offer

See section on Products and Services on our website

G4-5 Headquarters

Tele2 Annual Report 2014, Inside back cover

Yes

G4-6 Countries of operation

Tele2 Annual Report 2014, page 10

Yes

G4-7 Ownership

Tele2 Annual Report 2014, page 24

Yes

G4-8 Markets

Tele2 Annual Report 2014, page 41

Yes

G4-9 Scale of operations

Tele2 Annual Report 2014, page 8-9

Yes

G4-10 Employees

We report Full Time Employees (FTE) in the Tele2 Annual Report 2014 (page 54-55). Workforce by gender is reported in G4-LA12, Note 33. No significant variations in employment numbers.

Yes

G4-11 Collective bargaining

Employees in Sweden are covered by collective bargaining agreements. For other countries it varies but Tele2 has a positive view on collective bargaining agreements and such agreements are in line with our Code of Conduct.

G4-12 Supply chain

Most suppliers, considering spend, are producers of input material or products such as handsets, base stations, sim cards, construction companies for telecom mast constructions, Network & IT system solutions platforms as well as service providers within areas such as customer operations and media. Additionally suppliers, or Business Partners as we call them in a wider sense, are consultants, financial auditors, M&A firms, legal advisors, etc.

Suppliers are either contracted through Group Procurement, Country Procurement or directly by various business ownership parties at Group or country level. Our first tier supply lines are estimated to cover several thousands of contracts.

G4-13 Significant changes

With several thousands of suppliers, there are naturally changes from year to year as contracts expire and new potential suppliers enter the market.

G4-14 Precautionary principle

The precautionary principle is relevant for electro-magnetic fields where we follow research as it develops.

G4-15 External commitments

We adhere to applicable parts of the following: the United Nations Universal Declaration of Human Rights, the International Labour Organization's core conventions, the OECD Guideline for multinational enterprises, the United Nations Global Compact, the United Nations Guiding Principles on Business and Human Rights and the Children's Rights Business Principles.

G4-16 Memberships

GSMA, the Global e-Sustainability Initiative (GeSI) as a regular member and the Sida Swedish Leadership for Sustainable Development (SLSD) initiative, no particular funding or sponsoring.

Material aspects and boundaries

G4-17 Entities included

The report covers Tele2 Group. Legal entities are listed in the consolidated financial statement in Note 19 in the Tele2 Annual Report 2014 (page 65).

Norway has been excluded.

G4-18 Materiality process and boundaries

Our stakeholders have been very clear with their priorities, so defining the content of our report is not much of a challenge, except when it comes to condensing its format. During this year too, our CR Strategy has proven valid again and the three focus areas have grown even more in importance. Reporting content therefore reflects our approach, supported and established through dialogues, our most material topics and our management of them. Our boundaries were defined during in-house discussions with for example the Legal department, where the degree of ownership and areas of work for each entity were reviewed.

The content of reported information mirrors our material areas in the CR Strategy, with an emphasis on our focus areas. The strategy, and combined materiality analysis, was developed in April-August 2012 and presented and approved by the Leadership team in August 2012. The process beyond the CR strategy was a strategic stakeholder dialogue where the Leadership team and key personnel were interviewed about their view on "need to have" and "nice to have" areas for reaching our wanted position in 2020.

Each LT member representing his/her business area of responsibility conveyed various stakeholders' views in their respective field. Ultimately, it was Mats Granryd (CEO), who proposed the final adjustments resulting in the prioritizations that we are working with today. In a parallel process additional input had been provided by investors, NGOs, the employee survey "My Voice", media analysis, peer reviews, the political arena and debate as well as the development of international norms and standards - all in all providing relevant context and feedback to the materiality table and CR strategy.

The implementation of the reporting principles goes hand in hand with our values, owners' requirements, codes and policies and the tone at the top. This made it all the easier to implement and live up to the reporting principles, such as stakeholder inclusiveness, completeness, materiality, sustainability context, comparability, balance, accuracy, clarity etc. The principles are in line with regular (financial) reporting so ensuring a fulfillment of the CR/GRI reporting principles is a common goal internally.

G4-19 Material aspects

We have chosen to merge our CR Strategy and Materiality analysis in one table for enhanced clarity and transparency about how we prioritize things. Material aspects are to be found in the Focus and Comply sections of the strategy.

Both our Focus and
Comply areas could be
seen as material within
our first, second and
third tier boundaries
(see the Boundary figure)
as well as beyond.
However being several
tiers upstream in
the supply chain
significantly decreases our level
of control and influence or even
the possibility to identify ("material") risks.

G4-20 Aspect inside boundary

See G4-19. Privacy and integrity are partly outside of our boundary. According to the UN it is states' responsibility to protect human rights through solid laws and regulations. Regarding surveillance, it is up to each relevant national Authority, such as the National Security Agency, to obtain permission - such as a warrant or court order - to conduct surveillance lawfully. As an operator, we cannot assess or evaluate whether the NSA is right or wrong in their decisions (e.g. whether the warrant is issued for the right reasons). We do not have that mandate, nor information or the responsibility to do so. Instead, General Prosecutor is in most cases the supervising Authority that ensures a correct, safe and lawful usage of surveillance for fighting crimes. What we can do is to assess the requests we do get so they are in compliance with applicable protocols and therefore lawful.

G4-21 Aspect outside boundary

See above, G4-19-G4-20.

G4-22 Restatements

No significant restatements within the CR field.

G4-23 Scope

No significant changes.

Stakeholder engagement

G4-24 Stakeholder groups

We are open to engage with all relevant stakeholders. Stakeholder dialogues are conducted regularly in various formats during the year, ranging from one-to-ones to larger gatherings.

G4-25 Stakeholder identification

We are open to any constructive dialogue, e.g. we do not exclude anyone. During the year we have offered, in addition to regular dialogues, one Tele2 CR Day on the 10th of June and one Tax Compliance Roundtable on the 5th of December for investors.

G4-26 Stakeholder engagement

Stakeholder engagements are built into business processes. This includes having CR questions in the employee survey "My Voice", customer surveys, Corporate Responsibility Advisory Group (CRAG) meetings for dialogues with our largest owner, being active with Government Relations and the EU/EC, answering questionnaires from NGOs, meeting analysts, analysing media reports, and so on. Occasionally or when deemed necessary, we conduct specific tailored engagements to develop the CR Strategy and the materiality analysis, for instance, as we did in 2012.

The frequency of engagements varies from once a year (My Voice) to several times a year (investors). We have not had any particular separate engagement for the preparation of the report.

G4-27 Stakeholder topics

Key topics have mainly included: Privacy and Freedom of Expression (investors, Kinnevik/owners, NGOs, media, indices, customers), customer focus (Kinnevik), pursuing opportunities related to telecoms operators' potential to help abate climate change (investors), tax compliance (investors, NGOs), CR and remuneration (investors), anti-corruption work and result (investors, owners/Kinnevik, NGOs, media, indices), recollection of used handsets (investors, indices) and push back to Governmental requests (investors, owners, NGOs, media).

Other topics raised have been environmental issues (several indices), local community (indices, investors) and a variety of less material topics already presented and explained on our corporate website. The largest change in focus in 2014 have come from media which highlighted our business in Kazakhstan.

Report profile

G4-28 Reporting period

2014-01-01 to 2014-12-31

G4-29 Previous report

2013

G4-30 Reporting cycle

Annual

G4-31 Contact

Director Corporate Responsibility: Marie Baumgarts, email: marie.baumgarts@tele2.com, phone: +4670 426 4458

G4-32 GRI option and index

Tele2 reports G4 in accordance – Core.

The Administrative report is externally assured by Deloitte, see the Annual report for more information.

G4-33 External assurance

The Administrative report has been externally assured by Deloitte under the same terms as financial data. One Assurance report has been issued indicating a higher degree of assurance compared to, for example, limited assurance according to RevR 6. The Corporate Governance Report has been reviewed by Deloitte.

The Assurance Report is available in the Annual Report.

Deloitte is independent to Tele2.

The CR information is being integrated into business processes and so is reporting and assurance. Seeking external assurance is one of Kinnevik's CR Requirements. Inserting CR data into the Administrative report was a decision by the CFO and the Head of CR in 2013.

Yes

Governance

G4-34 Governance structure

See the Corporate Governance Report and the CR Governance section at the web

Yes

G4-35 Delegating authority

See the Corporate Governance Report and the CR Governance section at the web

Yes

G4-36 Position and responsibility

G4-37 Consultation

During 2014 Tele2 hosted two events with the Tele2 CR Day being the first and the Tax Compliance Roundtable for investors being the second. Read more about them here

G4-38 Board composition

See the Corporate Governance Report, page 3 and onwards

Yes

G4-39 Chair of the highest governance body

See the Corporate Governance Report, page 3 and 6

Yes

G4-40 Nominations

See the Corporate Governance Report, page 3, and the external webpage

Yes

G4-41 Conflict of interest avoidance

See the Corporate Governance Report

Yes

G4-42 Purpose, value and mission

AGM and the Corporate Governance Report

Yes

G4-43 Boards knowledge of CR

The CRAG Board members supports the full Board in CR matters. During the fall Tele2 conducted one extended CRAG meeting where the full Board was invited. For each Board meeting the Director CR prepares a "CR Update" appendix to the Board material.

G4-44 Evaluation of performance

See Corporate Governance Report, page 6

Yes

G4-45 Identify risks and opportunities

CR risk management is part of Kinnevik's CR requirements. Risks is discussed in the CRAG and management of risks are reported in the CR Update to the Board meetings. Stakeholder consultation normally includes discussions about risks. For 2014, risks for human rights violations or the risk of being in complicit with human rights violations (privacy and integrity) have been a particular focus in dialogues with stakeholders. In addition risks for corruption have also been discussed.

G4-46 Review of risk processes

See the Corporate Governance Report, page 6

Yes

G4-47 Frequency of review

Once every quarter in the CRAG meetings and Audit Committee meetings.

G4-48 Approval of CR report

Tele2's most material aspects are reported in the Administration Report which is externally assured and approved by the Board.

Yes

G4-49 Critical concerns

One reporting channel is the CR Update appendix to each Board meeting. CRAG is another. Reporting to LT takes place when appropriate throughout the year.

G4-50 Nature and number of critical concerns

2014 has comprised a focus on privacy and integrity and anti-corruption, as described in the Administration Report.

Yes

G4-51 Remuneration policies

See the Annual Report 2014, page 24, the Corporate Governance Report, page 7-8 and the external webpage

Yes

G4-52 Process for determining remunerations

See the Annual Report, page 24, Remuneration Guidelines for senior executives (approved by the AGM).

Yes

G4-53 Stakeholders views

Shareholders approve the remuneration guidelines for senior executives through the AGM.

Ethics and integrity

G4-56 Code of conduct

Code of Conduct and Business Partner Code of Conduct, see the Our Responsibility section on our website

G4-57 Seeking advice

These are standard procedures and processes which varies depending on the subject matter. For privacy and integrity processes see the Administrative Report.

G4-58 Whistleblowing mechanisms

Tele2 has a whistle blower process in place. It is also available for our Business Partners that have signed our Business Partner Code of Conduct.
Key performance Indicators
| | | |
| --- | --- | --- |
| Specific standard disclosure | | External assurane |
| DMA Material aspects | See this section, scroll down | |
| Economic performance | | |
| G4-EC1 Economic value generated and distributed | Scroll up to the section "Crunch the numbers" | Yes |
| Environmental performance | | |
| G4-EN3 Energy consumption | Scroll up to the section "Crunch the numbers" | |
| G4-EN15 Direct GHG emissions | Scroll up to the section "Crunch the numbers" | |
| G4-EN16 Indirect GHG emissions | Scroll up to the section "Crunch the numbers" | |
| G4-EN29 Fines or sanctions | Scroll up to the section "Crunch the numbers" | Yes |
| Social performance | | |
| G4-LA1 Employee turnover | Scroll up to the section "Crunch the numbers" | |
| G4-LA6 Injuries and sick-leave | Scroll up to the section "Crunch the numbers" | |
| G4-LA12 Employee diversity | Scroll up to the section "Crunch the numbers" | Yes |
| G4-HR3 Discrimination | Scroll up to the section "Crunch the numbers" | |
| G4-HR4 Freedom of association and collective bargaining | Scroll up to the section "Crunch the numbers" | |
| G4-HR5 Child labor | Scroll up to the section "Crunch the numbers" | |
| G4-HR6 Compulsory labor | Scroll up to the section "Crunch the numbers" | |
| G4-SO5 Corruption incidents | Scroll up to the section "Crunch the numbers" | Yes |
| G4-SO7 Anti-competitive behavior | Scroll up to the section "Crunch the numbers" | Yes |
| G4-SO8 Compliance: Fines and sanctions | Scroll up to the section "Crunch the numbers" | Yes |
| G4-PR2 Health and safety of products and services | Scroll up to the section "Crunch the numbers" | Yes |
| G4-PR5 Customer satisfaction | Scroll up to the section "Crunch the numbers" | |
| G4-PR7 Marketing communication | Scroll up to the section "Crunch the numbers" | Yes |
| G4-PR8 Customer privacy and data | Scroll up to the section "Crunch the numbers" | Yes |
| G4-PR9 Compliance: Fines | Scroll up to the section "Crunch the numbers" | Yes |
Disclosure of management approach
| | | | | | |
| --- | --- | --- | --- | --- | --- |
| Material Aspects | Why Aspect is material | Potential impact | Indicators | Omissions | External Assurance |
| Economic (Economic performance) | Tax compliance is a "global challenge" | Low-Medium | EC1 | None | Yes (ref. AR) |
| Environmental (Energy, Emissions, Compliance) | Climate change is a global challenge | Low | EN3, EN15, EN16, EN29 | None | EN29 Yes, remaining No |
| Social/Labor Practices and Decent Work (Employment, Occupational Health & Safety, Diversity and Equal Opportunity) | Labor practices is important from an employer perspective and in supply chain where most of the risks occur | Low-Medium | LA1, LA6, LA12 | None | LA12 Yes, remaining No |
| Social/Human Rights (Non-discrimination, Supply chain) | As above | Low-Medium | HR3, HR4, HR5, HR6 | None | No |
| Social/Society (Corruption, Anti-competitive behavior, Compliance) | Material in our markets | Medium | SO5, SO7, SO8 | None | Yes |
| Social/Product Responsibility (Customer health and safety, Product and service labeling, Marketing communications, Customer privacy, Compliance) | Most material aspects which relates to our core services | High | PR2, PR5, PR7, PR8, PR9 | None | PR2, PR7, PR8, PR9 Yes, PR5 No |