Welcome
Published: 2016-03-23
Responsible Challenger
We always try to do the right thing. Unless we think it's wrong
Under 2015 Tele2 has continued its journey integrating CR into the Administration Report. This does for example mean that the long term aim is to phase out information published here to the Administration Report. Since a couple of years back, we have reported our most material CR matters in the Administration Report and kept less critical information here together with the GRI Index. This is a strategic journey we intend to continue. Therefore, in this GRI report, we have chosen to exclude both CR texts and further introduction than Reach for Change and what is written in the Administration Report below. We wish you - customers, future customers, investors, future investors, employees and future employees - an interesting read!
From the Administration Report
Tele2's Corporate Responsibility efforts are focused on potential risks and areas where the Group may contribute positively. During 2015, Tele2 chose to incorporate its focus areas within CR into the Group strategy. This is an important step forward and the main aim is that CR-matters shall be taken into consideration in all relevant major decisions Tele2 makes. The areas that have been implemented in the Group strategy are ethics & compliance, privacy & integrity, environment, child protection, and diversity. Organizationally the CR function has been moved to Group Legal for further enhancing the importance of ethics & compliance and the other focus areas as cornerstone elements in being a responsible challenger.
Focus areas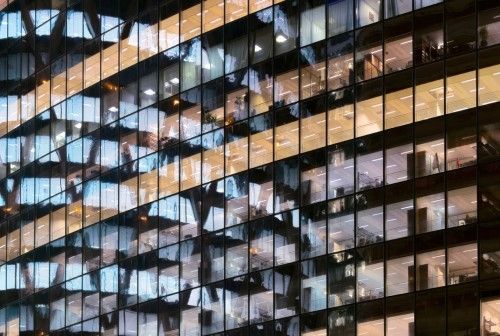 Ethics & compliance
Ethics & Compliance are areas, which are present in all parts of the company and serve as a filter for relevant major decisions. The areas are mainly framed by legal compliance, the Tele2 code of conduct, signed by all employees annually, the Tele2 Business Partner code of conduct, signed by parties doing business with us, and our whistle blowing system, available for everyone. All employees are requested to do an e-learning training on a yearly basis. Compliance is followed up through several activities which are described both in the Corporate Governance Report and on the corporate web. During 2015, the Chairman of the Tele2 Corporate Responsibility Advisory Board (CRAG) proposed a possible CR-checklist for the Board of Directors to use when making decisions and that certain major decisions should include a section regarding CR matters.
Privacy & integrity
We have during the year seen an increase in issues related to privacy & integrity, especially questions in the data protection field. Tele2 deals with questions on data protection and authorities' requests for lawful interception in all countries of operation on a regular basis. This requires continuous monitoring of amendments to the law and confirmation that there are always a legal basis for processing of personal data and request for interception from the authorities. Tele2 has a clear process to assess requests for shut downs of for instance networks, which is particularly relevant in those countries where SORM type legislation exists. Situations when local laws diverge from the principles in the Group's code of conduct need careful considerations to ensure Tele2 does not compromise with integrity and judgment.
One example is the so called data retention case where Tele2 Sweden ceased the storage of data according to the Swedish law on electronic communication (LEK). Tele2 deemed that there was no legal grounds to store data after the law had been invalidated by the European Court of Justice. The court's judgment claimed that the law was in conflict with international human rights. After the Swedish Post and Telecom Authority (PTS) filed an injunction against Tele2 Sweden in June 2014, to resume storage of data in accordance with LEK, Tele2 Sweden complied. As an operator Tele2 Sweden is obliged to comply with the regulatory authority's injunction, which is in accordance with the associated UN guiding principles. The case is now in the Swedish Court of Appeal, which decided in April 2015 to request a preliminary ruling from the European Court of Justice concerning the LEK's compatibility with the European Convention on human rights. Tele2 has thus taken the matter as far as possible in the court system and are now awaiting the European Court of Justice ruling.
Privacy & integrity issues will continue to require evaluation, analysis and active standpoints in all countries where Tele2 operates. Tele2 is commited to being transparent and to challenge.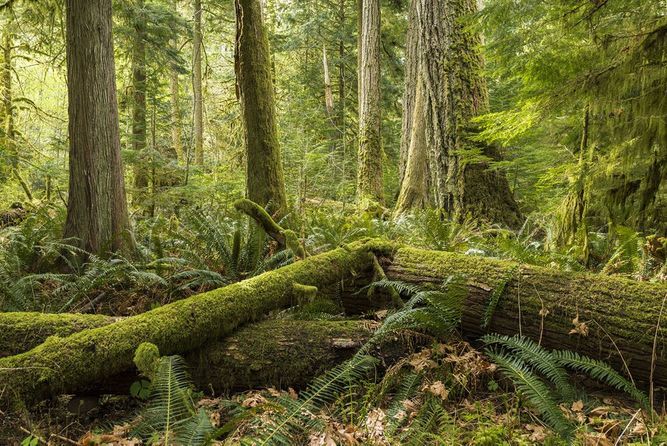 Environment
Within the environmental area Tele2 works to provide smarter solutions to reduce climate change, foremost through our machine-to-machine, M2M, offer. M2M implies that machines talk to each other without the involvement of human beings, resulting in, among other things, that customers can automize, standardize and install their routines and systems remotely which reduce energy consumption and physical travel. M2M is currently one of the fastest growing business areas within Tele2 with several new partnerships and customers during the year.
Child protection
Within child protection Tele2 takes a clear stand against sexual abuse images online and whenever we find such content online, we block the site immediately. We do this in all nine countries we operate in. Tele2 cooperates with INTERPOL that classifies which images and domains that contain child sexual abuse content. We also check and take action in our own organization, meaning that we have systems for detecting if any Tele2 employee tries to access such content.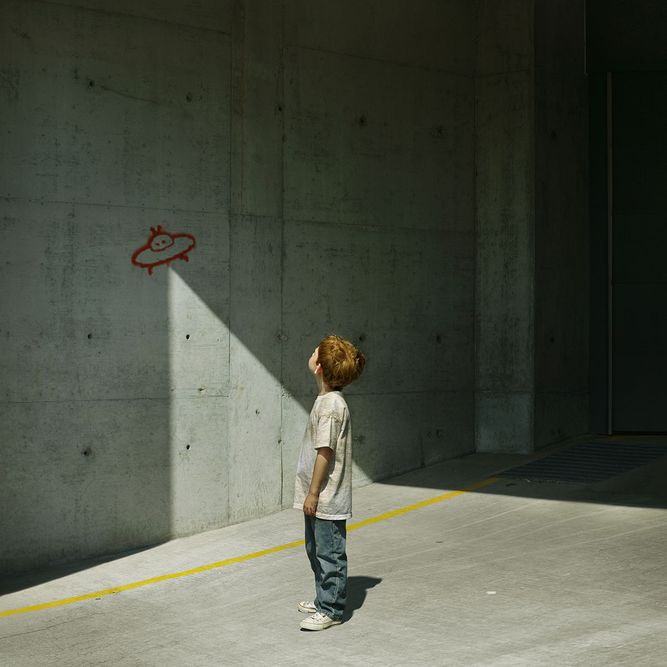 Diversity
Diversity is one of Tele2's most recent focus areas under CR. The planning and execution of goals and targets within diversity will take form during 2016.
Being explicit internally and externally about our priorities is crucial to be able to be a responsible challenger. Thereby resources are dedicated to the areas where they are best utilized, something that works well all the way from the board to employees.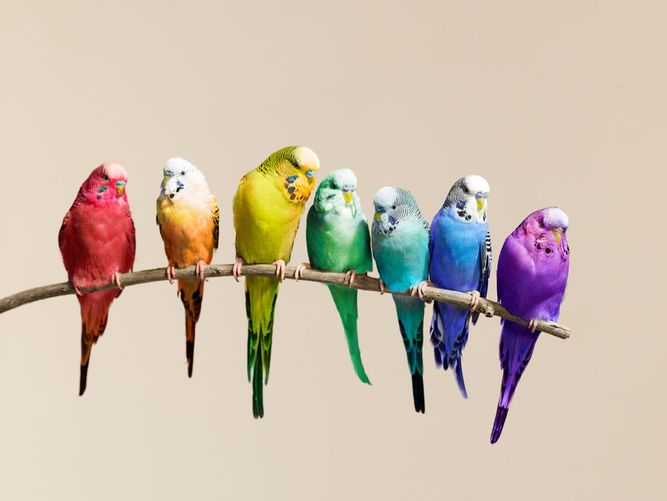 Review of the Board
The Tele2 Corporate Responsibility Advisory Group (CRAG) is composed of the board members Carla Smits-Nusteling and Erik Mitteregger, where Erik also is the Chairman. Participating from the leadership team is CEO Allison Kirkby and Group General Counsel Caroline Fellenius-Omnell. In addition, Tele2's CR Director is part of the advisory group. In the four ordinary CRAG meetings during the year, the discussions involved anti-corruption and ultimate beneficiary owners, human rights due diligences, the United Nations guiding principles and compliance, the EU Directive on non-financial disclosures, progress of stakeholder dialogues, and privacy and data protection. During one of the meetings the entire Tele2 board was invited. The work to integrate CR in all the Group's processes, governance and control measures has continued and among other things resulted in CR-matters becoming incorporated in the Group strategy as described above.
Responsible challenger
On November 4, 2015, Tele2 announced the agreements to buy Asianet's interests in Tele2 Kazakhstan and to form a jointly owned company with Kazakhtelecom by combining the two businesses' mobile operations in Kazakhstan, Tele2 Kazakhstan and Altel. Upon completion Tele2 will have a 49 percent economic ownership, but 51 percent of the voting rights, in the holding company that will own and control the jointly owned company. As part of the transaction, Tele2 will at closing acquire Asianet's existing 49 percent stake in Tele2 Kazakhstan for an initial payment of USD 15 million (SEK 125 million) and a deferred consideration equivalent to an 18 percent economic interest in the jointly owned company during a three year period. Therefore, the purchase agreement with Asianet means that Tele2's effective economic interest in the jointly owned company during the first three years will be 31 percent (please refer to Note 15).
The jointly owned company will implement Tele2's corporate governance standards and procedures and code of conduct. Kazakhtelecom has undertaken to comply with Tele2's code of conduct and Tele2 has reserved the right to exit from the jointly owned company in the event of material breaches of the code of conduct by Kazakhtelecom.
During the negotiations and prior to signing the agreement with Kazakhtelecom, Tele2 conducted a thorough due diligence and analysis, not only focusing on commercial and legal aspects of the agreement, but also on human rights and corporate responsibility. The due diligence encompassed the transaction itself and those parties involved in the agreement. The due diligence was performed to ensure that the transaction and the new business are aligned to the ethical standards of Tele2's code of conduct (CoC) and the United Nations guiding principles on human rights (UNGP). Around ten reports were authored and presented to Tele2. When announcing the agreement, Tele2 also published a CR report with focus on the Corporate Responsibility aspects of the deal. The report is available on Tele2's website www.tele2.com.
We are confident that the new jointly owned company will serve as a vehicle for development in Kazakhstan. This will be achieved, first and foremost, by growing the combined business and improving the availability and quality of telecommunication services in Kazakhstan.
There is no substitute for hard work
At Tele2, we work hard at being a "Responsible Challenger". With this in mind we always aim to be on top of CR matters that are relevant and important to our most important stakeholders. Telco operators have come under significant scrutiny over their operations in the Eurasian region during the past year. And so, in January 2015, Tele2 proactively presented a White Paper on its operations in Kazakhstan to increase transparency on how we have done and still do ethical business in that market. As part of this White Paper, Tele2 shared findings from third party investigations by two independent firms. The investigations for the White Paper and the later performed Due Diligence associated with the intended merger of Tele2's operations in Kazakhstan with Kazakhtelecom's mobile operations, identified that there are some risk factors for Tele2 in Kazakhstan such as, for example, human rights risks, ownership related risks and risks for corruption. Therefore, Tele2 will continuously monitor, evaluate and work to mitigate those risks in order to live up to its "Responsible Challenger" ambitions and commitments. For additional information please refer to the CR report and the White Paper on Tele2's website www.tele2.com.
In March 2015, Tele2 got ranked number one out of the largest Sweden based companies for transparency in corporate reporting. The study was conducted by Transparency International Sweden and also concluded that Tele2 ranked number one in the aggregated index in an international context.
In 2014 Tele2 became included in the leading sustainability index – FTSE4Good. Their review in June 2015 showed that Tele2 keeps its high standards and therefore continues to be a part of the FTSE4Good Index series.
For additional reporting and information about Tele2's CR work, please refer to Note 38 and the corporate website for the GRI-index, in accordance with G4 from Global Reporting Initiative.
We are Improving lives through innovation
Together with our friends at Reach for Change
Innovating a better world for children
In 2010, Tele2 and the other Kinnevik companies founded Reach for Change with the purpose to improve children's lives through social innovation. Today Tele2 and Reach for Change collaborate in three countries: Kazakhstan, Sweden and Croatia, where the latter was successfully launched in May 2015. In these countries we engage communities and employees in the search and development of social entrepreneurs who work to make the world a better place for children.
From idea to impact:
Improving children's lives through social innovation
The end goal of Reach for Change's incubator is to improve children's lives on a big scale. The social entrepreneurs supported work to solve pressing issues facing children within these different areas:
Education


Improve children's access to and quality of education

Health


Help children live healthier lives

Child protection


Protect children from physical and mental abuse and threats

Social inclusion


Allow children from marginalized groups to participate in society on more equal terms

Economic participation


Equip youth to successfully enter the labor market

Expression and participation


Help children express themselves and participate in society through improved access to information
One example is the Swedish social venture Barnrättsbyrån, run by Elin Wernquist. They offer social and legal support to children, with the aim to safeguard and secure their rights:
"The children who come to us ask for different things, like 'I need help to get away from my home' or 'I need counseling to deal with the abuse I have suffered'. To reach these specific wishes we do investigatory work together and in collaboration with us, the child makes sense of their situation and starts articulating their needs"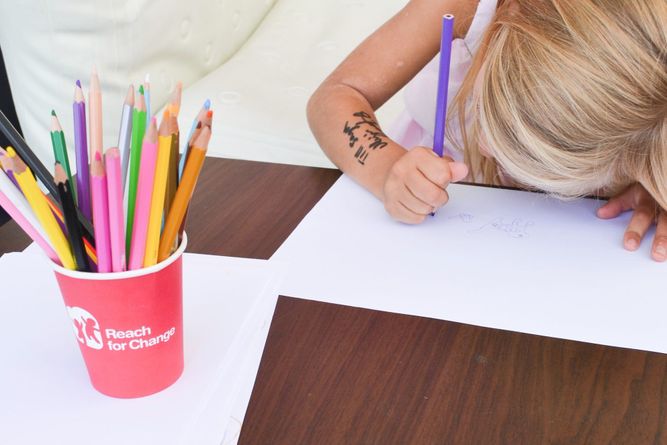 Painting activities together with Change Leader Catharina Richter and the organization Randiga huset, an organization that supports grieving children and their families, and strive to raise community awareness about children in mourning.
One person with true passion, entrepreneurial drive and an innovative idea can change the world. But in order to change the world they also need great support and someone to believe in their idea. This is where Reach for Change's and our support comes in. To help these exceptional individuals to succeed and go from an idea to a sustainable social venture with actual impact on children's lives.
In Reach for Change's multi-year incubator, the social entrepreneurs are actively supported through seed funding, access to business expertise and networking to help them develop their innovations, business model and to maximize their impact on children. Throughout 2015, 15 social entrepreneurs were supported through the collaboration, 11 in Sweden and 4 in Kazakhstan. Another 3 entrepreneurs were also selected in Croatia to be part of the incubator starting 2016.
Development of social ventures during 2015
Each year Reach for Change tracks the development of the social ventures supported, in order to demonstrate and evaluate to what extent the Incubator program is generating targeted results.
In 2015 (compared to in 2014):
73 % of the social enterprises increased their revenues
73 % of the social enterprises employed more staff
53 % of the social enterprises expanded geographically
60 % of the social enterprises supported more children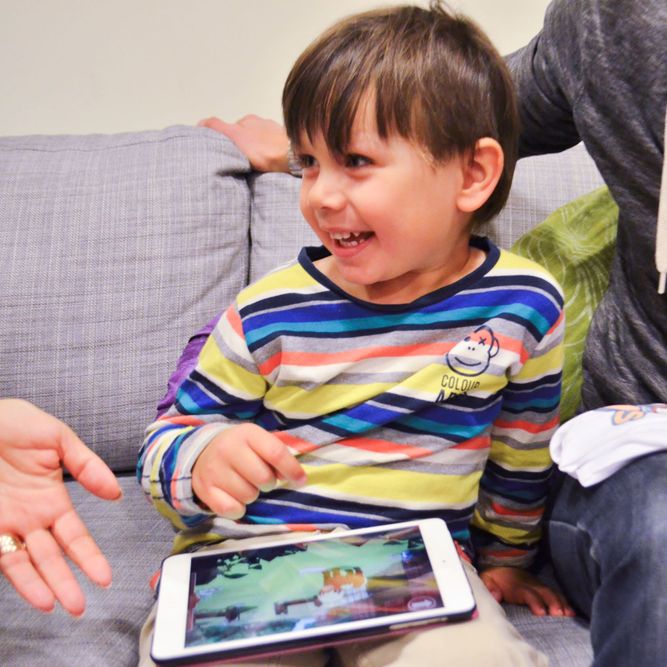 Léon, 3,5 yrs testing Peppy Pals, a mobile EQ game that teaches kids about friendship and empathy to prevent bullying, together with his father Omar and Change Leader Rosie Linder
Each entrepreneur works to impact children's lives in different ways. Some reach many children, working with awareness, attitudes and knowledge. Others reach fewer children, with a more in-depth approach, focusing on skills, behavior and status.
In 2015, we supported a total of 147 246 children through the collaboration. One of them is David in Sweden. (note that the name is fictive in order to protect the child.)
"David called us, and with a very hesitant and nervous voice, slowly found the words to tell us about the physical abuse he had been subjected to for a large part of his upbringing. He had never told anyone about his stepfather abuse, so he was understandably anxious about where his story would take him. We started by informing him of Barnrättsbyrån, our role and what we can help with. Then we spoke about his rights, putting his experiences into a context, and then informing about social services and their duties. As his secret was out it was too difficult for David to return to his home so he spent the coming weeks on friends' sofas, sleeping in train stations and in the gym toilets. We accompanied David to a number of meetings, advocating on his behalf and for his needs. After some time David was placed in supported housing and was offered family therapy. David has told us afterwards, that it was particularly meaningful to him that he felt that someone believed in him and that we reacted."
This story is told by Elin Wernquist, Barnrättsbyrån, Sweden

Read more about the social entrepreneurs and Reach for Change here.
Crunch the numbers
Measuring what matters - social, environmental and economic performance indicators
Numbers and breakdown of employees (G4-LA12)
On December 31, 2015, the number of employees in Tele2 was 5,758 (2014: 5,387 excluding Norway) of which 40 (42) percent women and 60 (58) percent men. A breakdown per gender and age group etc is presented below.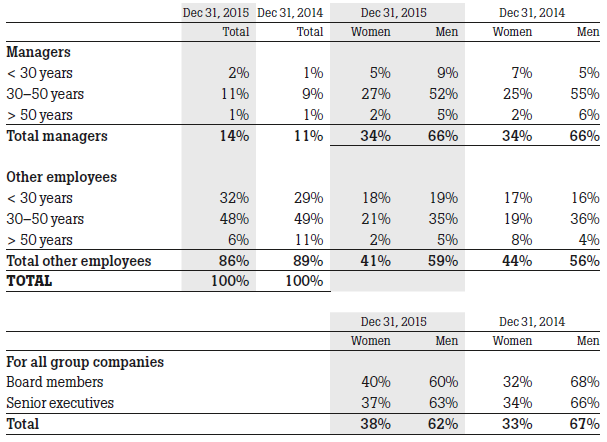 Average number of employees per region, by gender (G4-LA12 cont.)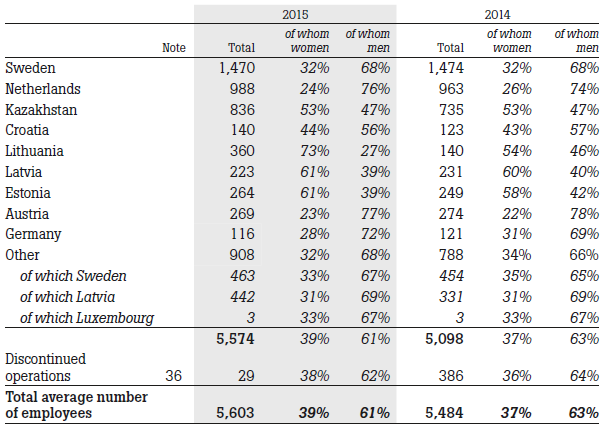 Diversity and equal opportunities (G4-LA12)

Employee turnover (G4-LA1)*

*Age and region have been left out


Injuries and sick leave (G4-LA6)*

No fatalities has been reported during the year.
*Includes all countries in the group except Kazakhstan and Austria.
Discrimination (G4-HR3)
ZERO
incidents of discrimination has occured during the year.
Supply chain and business partners (G3-HR2, G4-HR4, 5, 6)
The KPIs available in GRIs G4 are not optimal for us so we have chosen to do a narrative disclosure for supply chain sustainability.
Tele2 requires its significant Business Partners, with contract values exceeding 1MSEK per year, to sign the Tele2 Business Partner Code of Conduct. By doing so Tele2 includes clauses about Human Rights, Labor Rights, Anti-corruption and Environment etc. into a vast majority of its agreements with its business partners. The signing process has been mostly driven by Procurement and is described more in detail on our homepage.
Having several thousand of Business partners, we cannot fully exclude the risk of child labor, compulsory labor or violations of the rights to freedom of association and collective bargaining deep down in the value chain. Our way of managing such risks is through the Business Partners Code of conduct signing process, screening and follow up. In the BP Code we request the Business Partner to take responsibility for its supply chain.
Today approximately 22% of spend of the business partners which are managed within the sourcing & procurement processes, described above, have been screened and monitored with the EcoVadis E-TASC supply chain sustainability management system.
Corruption (G4-SO5)
Tele2 has not had any reported cases of corruption during the year nor previous year.
Furthermore, there has not been any reported concluded public legal cases related to corruption brought against Tele2 during the year nor previous year. Tele2's definition of corruption is when offering, giving, soliciting, or acceptance of inducement or reward which may influence any person to act inappropriately. The definition exclude pure telecom fraud cases. For additional information please refer to Tele2's website, CR section.
Anti-competitive behaviour, anti-trust and monopoly practices (G4-S07)
Number of reported legal actions for anti-competitive behaviour, anti-trust, and monopoly practives, pending or completed, in which Tele2 has been identified as a participant during the year is stated below.

3) If we receive negative outcomes, Tele2 expects the fines to insignificant
Laws and regulations (G4-SO8)
During the year, there was one reported case of sanctions for non-compliance with applicable laws and regulations in Sweden. The case took place in Net4Mobility, the infrastructure joint operation between Tele2 Sweden and Telenor Sweden. During previous year, two cases of sanctions were reported, both in Sweden where Tele2 Sweden acted in the interest of receiving an interpretation by the Court of Law. However, there were no reported cases brought through dispute resolutions during the year nor previous year.
Products and services health and safety impacts (G4-PR2)
Tele2 has had nine (two) reported non-compliance incidents concering the products' and services' health and safety impacts during their life cycle. All nine (two) were in Kazakhstan and seven (one) resulted in a fine2) and two (one) in a warning. There were no reported non-compliances with voluntary codes during the year nor previous year.
2) The fines have not been significant
Customer satisfaction (G4-PR5)
83.0%
Marketing communication, advertising and sponsorship (G4-PR7)
Number of reported incidents of non-compliance regarding marketing communication, advertising and sponsorship, resulting in fines, penalties, warnings or non-complience with voluntary codes during the year are stated below.

2) The fines have not been significant
Consumer privacy and losses of customer data (G4-PR8)
Number of reported substantiated complaints during the year, regarding breaches of customer privacy and losses of customer data, from outside parties and substantiated by Tele2 or from regulatory bodies as well as reported leaks, thefts or losses of customer data is stated below

In Sweden one incident in 2015 refers to were 24 customere have reported breaches of customer privacy dure to a software error. In addition, there were three more incidents reported in 2015 by customers in Sweden. Netherlands 2015 refers to breaches where customer data was overwritten but viewable for another individual.
The use of products and services (G4-PR9)
No significant fines1) have been reported during the year nor previous year for non-compliance with laws and regulations concerning the use of products and services.
1)Significant fines = defined by Tele2 as fines exceeding EUR 250,000 (equivalent to SEK 2.3 million)
Energy consumption within the organization (G4-EN3)
| Fuel consumption | GJ |
| --- | --- |
| Gas | 21,491 |
| Petrol | 24,823 |
| Diesel | 54,592 |
| Ethanol | 125 |
| Biogas | 0 |
| Share of renewables | 0,1% |
| Electricity, heating, cooling and steam purchased for consumption | GJ |
| --- | --- |
| Electricity | 1,147,570 |
| District heating | 12,783 |
| District cooling | 9,160 |
Direct and energy indirect greenhose gas (GHG) emissions (scope 1 and 2), tons CO2-eq (G4 EN15 AND 16)
| Country | Direct | Energy indirect | Total |
| --- | --- | --- | --- |
| Austria | 742 | 10,245 | 10,986 |
| Croatia | 278 | 6,667 | 6,945 |
| Estonia | 222 | 17,144 | 17,366 |
| Germany | 206 | 384 | 590 |
| Kazakhstan | 1,244 | 41,820 | 43,064 |
| Latvia | 449 | 5,725 | 6,174 |
| Lithuania | 266 | 9,833 | 10,099 |
| Netherlands | 2,778 | 20,866 | 23,644 |
| Sweden | 1,790 | 35,496 | 37,286 |
| Total | 7,974 | 148,180 | 156,154 |
Energy consumption per energy carrier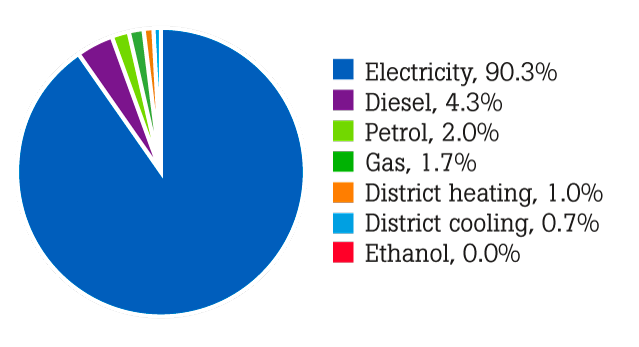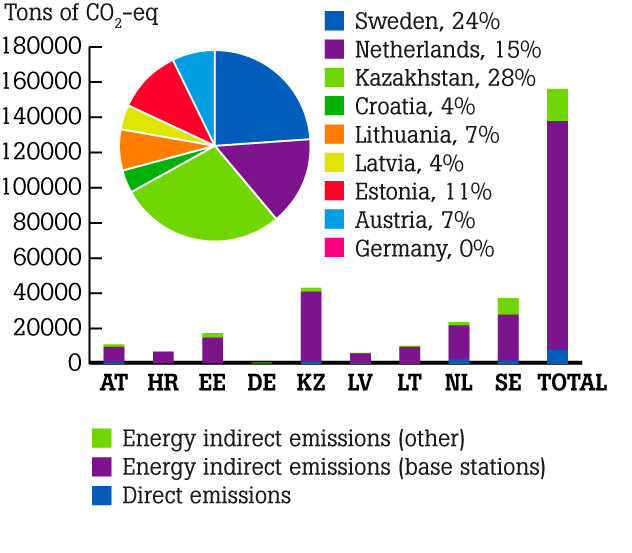 Electricity consumption is the major source for Tele2´s emissions of greenhouse gases. In Greenhouse Gas Protocol there are two alternative methods for calculating the emissions in scope 2; the location-based method and the market-based method. The location-based method consider the average emission intensity for the whole grid while the market-based method consider the market for Guarantees of Origin. Using the market-based method allow you to choose low emitting production, but if you do not make an active choice the emission intensity for the so called "residual mix" will be higher than the average of the whole grid. As the choice of method have such an impact on the calculations of Tele2's greenhouse gas emissions the result is disclosed with both methods where the market-based method always shows the highest value. Tele2´s electricity consumption increased with 20 percent compared to 2014 as a result of constructions of new masts and base stations in Kazakhstan and the Netherlands. Electricity consumed in base stations, which counts for approximately 76/79 percent of our total emissions, is by far the largest source of indirect emissions.
Based on the result in 2015, Tele2 could be said to have a potential environmental liability related to climate change of 108,059/156,154 tons of CO2-eq. Should these emissions be regulated, for instance as a result of an international agreement, it could mean an estimated cost of 816,928/1,180,525 EUR for buying allowances, calculated by using today's spot price in the EU Emission Trading System (EU-ETS) (7.56 EUR, 2015 average). Since it could not be considered likely that ICTs would be included in the EU ETS, calculations on the open carbon market could mean a different price. According to the second Stern report, which was published in June 2014, the price on carbon dioxide that is needed to avoid more than 2 degree above pre-industrial levels, is 32-103$ per ton. If Tele2's emissions for 2015 where monetarily transformed with the price of 103$ per ton the cost would be 10.0/14.5 MEUR.
Environmental regulations (G4-EN29)
No significant fines1), non-monetary sanctions or cases associated with environmental regulations brought through dispute resolution mechanisms has been reported during the year nor previous year.
1) Signigicant fines = defined by Tele2 as fines exceeding EUR 250,000 (equivalent to SEK 2.3 million)
Economic value generated and distributed (G4-EC1)
| SEK million | 2015 | 2014 |
| --- | --- | --- |
| Customers | | |
| Net Sales | 26,856 | 25,955 |
| Economic value generated | 26,856 | 25,955 |
| Suppliers | | |
| Operating expenses1) | -17,687 | -16,926 |
| CAPEX paid | -4,015 | -4,146 |
| Employees | | |
| Salaries and remunerations | -2,579 | -2,327 |
| Social security expenses | -838 | -790 |
| Shareholders | | |
| Dividend paid | -6,628 | -1,960 |
| Creditors | | |
| Interest net expenses paid | -470 | -246 |
| Community | | |
| Donations and charity2) | -6 | -6 |
| Government | | |
| Income tax expenses | -744 | -874 |
| Economic value distributed | -32,967 | -27,275 |
1) Operating expenses excluding depreciation, amortization and impairment, personnel costs and one-off items.
2) Donations and charity consists of Tele2's contributions to Reach for Change, BRIS and donations to UNHCR.
Expenses refer to continuing operations.
G4 is a given
Drill into our GRI index and get the full picture here
General Standard Disclosures
Reference
External assurance

Strategy and analysis

G4-1 CEO statement, strategy, vision and goals

Tele2 Annual Report 2015, page 2-3

Reviewed but not under assurance

Organizational profile

G4-3 Name

Tele2 Annual Report 2015, page 8

Yes

G4-4 Brands and offer

See section on Products and services on our website

G4-5 Headquarters

Tele2 Annual Report 2015, Inside back cover

Yes

G4-6 Countries of operation

Tele2 Annual Report 2015, page 10

Yes

G4-7 Ownership

Tele2 Annual Report 2015, page 26

Yes

G4-8 Markets

Tele2 Annual Report 2015, page 44

Yes

G4-9 Scale of operations

Tele2 Annual Report 2015, page 8-9

Yes

G4-10 Employees

We report Full Time Employees (FTE) in the Tele2 Annual Report 2015 (page 58). Workforce by gender is reported in G4-LA12, Note 33. No significant variations in employment numbers.

Yes

G4-11 Collective bargaining

Employees in Sweden are covered by collective bargaining agreements. For other countries it varies but Tele2 has a positive view on collective bargaining agreements and such agreements are in line with our Code of Conduct.

G4-12 Supply chain

Most suppliers, considering spend, are producers of input material or products such as handsets, base stations, sim cards, construction companies for telecom mast constructions, Network & IT system solutions platforms as well as service providers within areas such as customer operations and media. Additionally suppliers, or Business Partners as we call them in a wider sense, are consultants, financial auditors, M&A firms, legal advisors, etc.

Suppliers are either contracted through Group Procurement, Country Procurement or directly by various business ownership parties at Group or country level. Our first tier supply lines are estimated to cover several thousands of contracts.

G4-13 Significant changes

With several thousands of suppliers, there are naturally changes from year to year as contracts expire and new potential suppliers enter the market.

G4-14 Precautionary principle

The precautionary principle is relevant for electro-magnetic fields where we follow research as it develops.

G4-15 External commitments

We adhere to applicable parts of the following: the United Nations Universal Declaration of Human Rights, the International Labour Organization's core conventions, the OECD Guideline for multinational enterprises, the United Nations Global Compact, the United Nations Guiding Principles on Business and Human Rights and the Children's Rights Business Principles.

G4-16 Memberships

GSMA, the Global e-Sustainability Initiative (GeSI) as a regular member and the Sida Swedish Leadership for Sustainable Development (SLSD) initiative, no particular funding or sponsoring.

Material aspects and boundaries

G4-17 Entities included

The report covers Tele2 Group. Legal entities are listed in the consolidated financial statement in Note 18 in the Tele2 Annual Report 2015 (page 69).

G4-18 Materiality process and boundaries

In the telecommunication's industry the year has focused on ethics, risks for corruption and human rights such as privacy & freedom of expression (includin the UNGP). To prioritize has therefore not been much of a challenge. Simultaniously, our stakeholders have been very clear with their priorities, so defining the content of our report was quite straight forward. However, we have continued our journey with integrating CR into core business processes such as the corporate strategy which means this web based GRI report, or the remains of the GRI report is shrinking as we place more and more information into the Administration Report. To us that means CR information and data is being signed off by the Board and audited with resonable assurance.
Our boundaries were defined during in-house discussions with for example the Legal department, where the degree of ownership and areas of work for each entity were reviewed.

The content of reported information mirrors our material CR areas in the Corporate strategy. The previous CR strategy has been let go of, as being more of a satellite compared to next step, and integrated into the corporate strategy during the year. The Director of Corporate Responsibility presented the proposal to the Leadership team during spring 2015, and got it approved at once. After the LT meeting, and a topic for 2016 too, focus has been on developing group-wide modern and business oriented balanced goals and measurements for privacy and the other areas. During the year several stakeholder dialogues have taken place, for example we conducted two Roundtables in 2015.

As our materiality table has proven itself and settled in it was the Leadership team who approved the updated areas which got integrated into the Corporate strategy. The areas remain the same but have been divided into tier 1: Privacy & Integrity, Ethics & Compliance, and tier 2: Environment (CO2 as opportunity), Child Protection and Diversity. Only the last one, diversity, is a new area.

G4-19 Material aspects

We have chosen to merge the result of our materiality analysis into our Corporate strategy.

Both our tier 1 and tier 2 areas could be seen as material within our first, second and third tier boundaries (see the Boundary figure) as well as beyond. However being several tiers upstream in the supply chain significantly decreases our level of control and influence or even the possibility to identify ("material") risks.

G4-20 Aspect inside boundary

See G4-19. Privacy and integrity are partly outside of our boundary. According to the UN it is states' responsibility to protect human rights through solid laws and regulations. Regarding surveillance, it is up to each relevant national Authority, such as the National Security Agency, to obtain permission - such as a warrant or court order - to conduct surveillance lawfully. As an operator, we cannot assess or evaluate whether the NSA is right or wrong in their decisions (e.g. whether the warrant is issued for the right reasons). We do not have that mandate, nor information or the responsibility to do so. Instead, the General Prosecutor is in most cases the supervising Authority that ensures a correct, safe and lawful usage of surveillance for fighting crimes. What we can do is to assess the requests we do get so they are in compliance with applicable protocols and therefore lawful.

G4-21 Aspect outside boundary

See above, G4-19-G4-20.

G4-22 Restatements

No significant restatements within the CR field.

G4-23 Scope

No significant changes.

Stakeholder engagement

G4-24 Stakeholder groups

We are open to engage with all relevant stakeholders. Stakeholder dialogues are conducted regularly in various formats during the year, ranging from one-to-ones to larger gatherings.




G4-25 Stakeholder identification

We are open to any constructive dialogue, e.g. we do not exclude anyone. During the year we have offered, in addition to regular dialogues, two Roundtables where we presented information about Kazakhstan. We have actively been looking for more relevant parties to engage with.

G4-26 Stakeholder engagement

Stakeholder engagements are built into business processes. This includes having CR questions in the employee survey "My Voice", customer surveys, Corporate Responsibility Advisory Group (CRAG) meetings for dialogues with our largest owner, being active with Government Relations and the EU/EC, answering questionnaires from NGOs, meeting analysts, analysing media reports, and so on. Occasionally or when deemed necessary, we conduct specific tailored engagements to develop the previous CR Strategy and the materiality analysis, for instance, as we did in 2012.

The frequency of engagements varies from once a year (My Voice) to several times a year (investors). We have not had any particular separate engagement for the preparation of the report.

G4-27 Stakeholder topics

Key topics have mainly included: ethics, risks for corruption and doing business in Kazakhstan (almost all stakeholder groups), Privacy and Freedom of Expression (investors, Kinnevik/owners, NGOs, media, indices, customers), customer focus (Kinnevik) and pursuing opportunities related to telecoms operators' potential to help abate climate change (ICT organisations, investors).

Report profile

G4-28 Reporting period

2015-01-01 to 2015-12-31

G4-29 Previous report

2014

G4-30 Reporting cycle

Annual

G4-31 Contact

Director Corporate Responsibility: Marie Baumgarts, email: marie.baumgarts@tele2.com,
phone: +4670 426 4458

G4-32 GRI option and index

Tele2 reports G4 in accordance - Core.

The Administration report is externally assured by Deloitte, see the Annual report for more information.

G4-33 External assurance

The Administrative report has been externally assured by Deloitte under the same terms as financial data. One Assurance report has been issued indicating a higher degree of assurance compared to, for example, limited assurance according to RevR 6. The Corporate Governance Report has been reviewed by Deloitte.

The Assurance Report is available in the Annual Report.

Deloitte is independent to Tele2.

The CR information is being integrated into business processes and so are reporting and assurance. Seeking external assurance is one of Kinnevik's CR Requirements. Inserting CR data into the Administration Report was a decision by the CFO and the Director of CR in 2013.

Yes

Governance

G4-34 Governance structure

See the Corporate Governance Report and the CR Governance section at the web

Yes

G4-35 Delegating authority

See the Corporate Governance Report and the CR Governance section at the web

Yes

G4-36 Position and responsibility

G4-37 Consultation

During 2015 Tele2 hosted two Roundtables, both with focus on Kazakhstan. More information about them, and our Whitepaper and CR Memo, is available on tele2.com.

G4-38 Board composition

See the Corporate Governance Report, page 3 and onwards

Yes

G4-39 Chair of the highest governance body

See the Corporate Governance Report, page 3 and 6

Yes

G4-40 Nominations

See the Corporate Governance Report, page 3 and the external webpage

Yes

G4-41 Conflict of interest avoidance

See the Corporate Governance Report

Yes

G4-42 Purpose, value and mission

AGM and the Corporate Governance Report

Yes

G4-43 Boards knowledge of CR

The CRAG Board members supports the full Board in CR matters. During late summer Tele2 conducted one extended CRAG meeting where the full Board was invited. For each Board meeting the Director CR prepares a "CR Update" appendix to the Board material.

G4-44 Evaluation of performance

See the Corporate Governance Report, page 6

Yes

G4-45 Identify risks and opportunities

CR risk management is part of Kinnevik's CR requirements. Risks are discussed in the CRAG and management of risks are reported in the CR Update to the Board meetings. Stakeholder consultation normally includes discussions about risks. For 2015, risks for corruption, human rights violations or the risk of being in complicit with human rights violations (privacy and integrity) have been a particular focus in dialogues with stakeholders. Focus has been on Kazakhstan.

G4-46 Review of risk processes

See the Corporate Governance Report, page 6

Yes

G4-47 Frequency of review

Once every quarter in the CRAG meetings and Audit Committee meetings.

G4-48 Approval of CR report

Tele2's most material aspects are reported in the Administration Report which is externally assured and approved by the Board.

Yes

G4-49 Critical concerns

One reporting channel is the CR Update appendix to each Board meeting. CRAG is another. Reporting to LT takes place when appropriate throughout the year.

G4-50 Nature and number of critical concerns

2015 has comprised a focus on privacy and integrity and anti-corruption, as described in the Administration Report.

Yes

G4-51 Remuneration policies

See the Annual Report 2015, page 25 the Corporate Governance Report, page 7-8 and the external webpage

Yes

G4-52 Process for determining remunerations

See the Annual Report, page 25, Remuneration Guidelines for senior executives (approved by the AGM).

Yes

G4-53 Stakeholders views

Shareholders approve the remuneration guidelines for senior executives through the AGM.

Ethics and integrity

G4-56 Code of conduct

Code of Conduct and Business Partner Code of Conduct, see the Our Responsibility section on our website

G4-57 Seeking advice

These are standard procedures and processes which varies depending on the subject matter.

G4-58 Whistleblowing mechanisms

Tele2 has a whistle blower process in place. It is also available for our Business Partners that have signed our Business Partner Code of Conduct. Even external parties could us it as the instructions are publicly avaiable on tele2.com.
Key performance Indicators
| | | |
| --- | --- | --- |
| Specific standard disclosure | | External assurane |
| DMA Material aspects | See this section, scroll down | |
| Economic performance | | |
| G4-EC1 Economic value generated and distributed | Scroll up to the section "Crunch the numbers" | Yes |
| Environmental performance | | |
| G4-EN3 Energy consumption | Scroll up to the section "Crunch the numbers" | |
| G4-EN15 Direct GHG emissions | Scroll up to the section "Crunch the numbers" | |
| G4-EN16 Indirect GHG emissions | Scroll up to the section "Crunch the numbers" | |
| G4-EN29 Fines or sanctions | Scroll up to the section "Crunch the numbers" | Yes |
| Social performance | | |
| G4-LA1 Employee turnover | Scroll up to the section "Crunch the numbers" | |
| G4-LA6 Injuries and sick-leave | Scroll up to the section "Crunch the numbers" | |
| G4-LA12 Employee diversity | Scroll up to the section "Crunch the numbers" | |
| G4-HR3 Discrimination | Scroll up to the section "Crunch the numbers" | |
| G4-HR4 Freedom of association and collective bargaining | Scroll up to the section "Crunch the numbers" | |
| G4-HR5 Child labor | Scroll up to the section "Crunch the numbers" | |
| G4-HR6 Compulsory labor | Scroll up to the section "Crunch the numbers" | |
| G4-SO5 Corruption incidents | Scroll up to the section "Crunch the numbers" | Yes |
| G4-SO7 Anti-competitive behavior | Scroll up to the section "Crunch the numbers" | Yes |
| G4-SO8 Compliance: Fines and sanctions | Scroll up to the section "Crunch the numbers" | Yes |
| G4-PR2 Health and safety of products and services | Scroll up to the section "Crunch the numbers" | Yes |
| G4-PR5 Customer satisfaction | Scroll up to the section "Crunch the numbers" | Yes |
| G4-PR7 Marketing communication | Scroll up to the section "Crunch the numbers" | Yes |
| G4-PR8 Customer privacy and data | Scroll up to the section "Crunch the numbers" | Yes |
| G4-PR9 Compliance: Fines | Scroll up to the section "Crunch the numbers" | Yes |
Disclosure of management approach
| | | | | | |
| --- | --- | --- | --- | --- | --- |
| Material Aspects | Why Aspect is material | Potential impact | Indicators | Omissions | External Assurance |
| Economic (Economic performance) | Tax compliance is a "global challenge" | Low-Medium | EC1 | None | Yes (ref. AR) |
| Environmental (Energy, Emissions, Compliance) | Climate change is a global challenge that the ICT industry could help to challenge | Low-High (low risk, high opportunity) | EN3, EN15, EN16, EN29 | None | EN29 Yes, remaining No |
| Social/Labor Practices and Decent Work (Employment, Occupational Health & Safety, Diversity and Equal Opportunity) | Labor practices are important from an employer perspective and in supply chain where most of the risks occur. Diversity is included in our Corporate Strategy, tier 2. | Low-Medium | LA1, LA6, LA12 | None | LA12 Yes, remaining No |
| Social/Human Rights (Non-discrimination, Supply chain) | As above | Low-Medium | HR3, HR4, HR5, HR6 | None | No |
| Social/Society (Corruption, Anti-competitive behavior, Compliance) | Material in our markets | Medium (Higher in Kazakhstan) | SO5, SO7, SO8 | None | Yes |
| Social/Product Responsibility (Customer health and safety, Product and service labeling, Marketing communications, Customer privacy, Compliance) | Most material aspects which relates to our core services | High | PR2, PR5, PR7, PR8, PR9 | None | PR2, PR7, PR8, PR9 Yes, PR5 No |