Responsible
challenger
Published: 2017-03-22
We always try to do the right thing.
Unless we think it's wrong
Under 2016 Tele2 has continued its journey integrating CR into the Administration Report. This does for example mean that the long term aim is to phase out information published here to the Administration Report. Since a couple of years back, we have reported our most material CR matters in the Administration Report and kept less critical information here together with the GRI Index. This is a strategic journey we intend to continue. We wish you - customers, future customers, investors, future investors, employees and future employees - an interesting read!
From the administration report
Responsible challenger
Tele2 has long seen CR as playing a key role in business decisions and believes it paves the way for delivering the best value to shareholders. As mobile connectivity grows, so too does Tele2's potential impact on society, making it essential to conduct business in a responsible and sustainable way and utilize Tele2's knowledge and expertise to address some of the challenges faced by society today and in the future. Tele2 works hard at being a 'Responsible Challenger', which is a status the company must constantly earn through its actions. Tele2 therefore takes a proactive approach to CR and always aims to be on top of CR topics that matter most to Tele2's stakeholders. Tele2 focuses on developing the opportunities where the company can contribute in a positive way and uses well-governed CR processes to spot and reduce potential risks and strengthen the business.
Since Tele2 decided in 2015 to incorporate CR into the foundation of the Group strategy, Tele2 has continued throughout 2016 to concentrate on what it means to be a 'Responsible Challenger' and doing what it takes to walk the talk in areas where the company can make the greatest difference. The 'Responsible Challenger' strategy defines five main focus areas: ethics & compliance, privacy & integrity, diversity, child protection, and environment.
Tele2's continuous evaluation of CR processes helps Tele2 stay in control of the issues that are important to the stakeholders. Tele2 continues to keep up high standards and have been recognized for the transparency efforts and focused approach to CR. Tele2 is top-rated (A+) by Nordea for the Environmental, Social, and Governance (ESG) work and was ranked number one in 2015 by Transparency International in a comparison of the largest Sweden based companies for transparency in corporate reporting and tops its list in the international context. After a review in 2016, Tele2 has successfully maintained its position on one of the leading sustainability indices, the FTSE4Good Index series, which is designed to measure the performance of companies demonstrating strong ESG practices.
Focus areas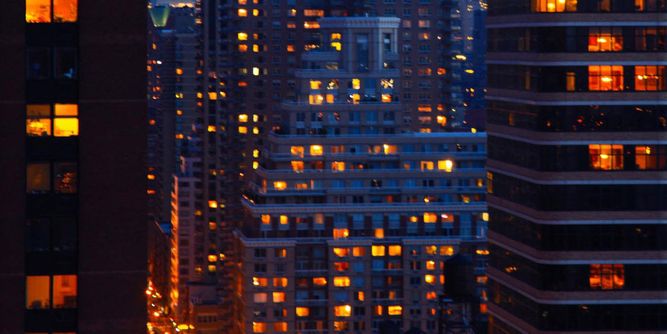 Ethics & compliance
Ethics & Compliance touches all parts of the business and Tele2 places great importance on upholding high ethical standards, whether it is in carrying out everyday tasks or when entering into new commercial relationships. This approach to doing business starts with our people, and that is why all Tele2 employees are required to annually sign the Tele2 Code of Conduct, which is supported by legal compliance and framed by the guiding principles for Business and Human Rights provided by the UN Global Compact. All employees are obliged to complete an e-learning video training in conjunction with each signing of the Code of Conduct to renew their commitment yearly to maintaining honest and ethical business conduct. Tele2 expects its business partners and affiliates to uphold the same standards, and ask any party doing business with Tele2 to sign and adhere to the Business Partner Code of Conduct requirements. Compliance is followed up through several activities which are described both in the Corporate Governance Report and on the Tele2 corporate website.
Since completing the acquisition transaction in Kazakhstan between Tele2 Kazakhstan and Kazakhtelecom's mobile business Altel, the integration process has also focused on training the new entity to comply with Tele2's corporate responsibility standards. To set up a program, information was used from the Human Rights Due Diligence performed in the context of the merger. The Human Rights Due Diligence included three gap analyses, one for each entity: Tele2 Kazakhstan, Kazakhtelecom, and Altel. The entities were assessed on their policies, systems, and management processes in place with respect to CR. For example, they were evaluated regarding policy commitment to respect human rights and participation in any initiatives such as UN Global Compact. As the initial results showed gaps, our focus has been on designing trainings and initiating other means to make progress in reducing the differences - under the 'Responsible Challenger' umbrella. The newly formed entity has taken a number of actions to implement Tele2's corporate governance standards, procedures, and Code of Conduct, which started with the Tele2 standard process of signing the Code of Conduct and viewing the corresponding e-learning movie. Thereafter, Tele2 have conducted specialized face-to-face Code of Conduct training courses for employees regarding anti-corruption, conflict of interest, privacy, freedom of expression, and Tele2's whistle blowerpolicy. The sessions were first carried out for the Tele2 Group's leadership team and Tele2 Kazakhstan's leadership team, followed by 100 managers. The training will continue into 2017 for all Tele2 employees in Kazakhstan. A Summary Report has been prepared covering the first year of operation in the new jointly owned company, as a follow-up to the commitment made to the market at the time the transaction was announced.
Privacy & integrity
Tele2 is committed to safeguarding and respecting our customers' rights to privacy, integrity and freedom of expression, all of which are governed by principles of international human rights and are upheld in Tele2's Code of Conduct. Like all telecommunications companies, Tele2 is subject to the national laws in each of our markets that oblige operators to comply with requests from government authorities and law enforcement agencies to disclose customer information. These requirements are based on specific legal grounds, for example, when asked to provide information that is deemed essential to investigations concerning national security or public safety. Tele2 complies with and operates in accordance with the laws in all its markets, but Tele2 does not disclose information or takes any action that goes beyond what is required by law. Tele2 maintains clear internal processes for assessing requests and, where possible, Tele2 engages in a dialogue with authorities, challenges any requests that do not meet the requirements stipulated by national laws, and stresses the importance of human rights considerations. Tele2 is dedicated to transparency in this area and in 2016, Tele2 Kazakhstan published a summary available to the public in Kazakh and Russian, which outlines how Tele2 balances government demands with commitment to international human rights.
Tele2 acts as a champion for customers and is not afraid to act in situations where local laws diverge from the principles in the Group's Code of Conduct. One example is the so-called data retention case where Tele2 Sweden ceased the storage of data according to the Swedish law on electronic communication (LEK). Tele2 deemed that there no longer were legal grounds to store data after a ruling by the European Court of Justice whereby the data retention directive on which LEK has been built was declared null and void for being in conflict with international human rights. After the Swedish Post and Telecom Authority (PTS) filed an injunction against Tele2 Sweden in June 2014 to resume storage of data in accordance with LEK, Tele2 Sweden complied. The Swedish Court of Appeal referred the case to the European Court of Justice in April 2015 for a preliminary ruling on LEK's compatibility with the European Convention on human rights. On December 21, 2016 the European Court of Justice ruled that a targeted national measure for data retention can only be provisioned for the purpose of fighting serious crime, and agreed with Tele2 that Swedish data retention requirements are therefore not compatible with EU law. The Swedish Court of Appeal will now try the case based on the guidance received from the European Court of Justice.
In response to the growing importance of data protection, Tele2 has taken a number of steps. The company has appointed a Group Privacy Officer during 2016 to oversee privacy questions on a group level and to support the business in building robust processes to comply with relevant regulations. Tele2 has also established a Data Protection Committee during 2016 that meets quarterly and consists of the General Counsel, Group Director of Security, Group Director of Product Management, Group Director of Communications, Chief Procurement Officer and the Group Privacy Officer.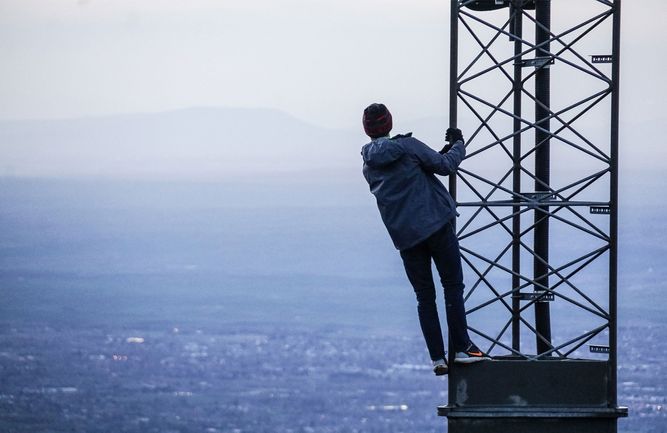 Diversity
Tele2 sees diversity as a way to maximize business potential and Tele2 constantly seek new ways to engage with and drive diversity initiatives. By promoting diversity internally and fostering a work environment that respects multiple perspectives, Tele2 can continue to improve its way of working and offer products and services that reflect its diverse customer base. Tele2 has also engaged in community outreach programs and partnerships as another way to work with diversity in many of Tele2's markets in 2016. For example, Tele2 Sweden and Reach for Change piloted a mentor program that matched unaccompanied refugee minors with Tele2 employees, in order to strengthen the mentees' opportunities in the Swedish job market while also exposing Tele2 employees to new perspectives. The initiative was considered successful by all involved, with a majority of mentees reporting to have new professional contacts, improved Swedish language, and better understanding of Swedish labor market as a result of the program. In addition to the above, Tele2 has led and participated in initiatives targeting gender diversity – Girls make IT Happen in Latvia as well as Datatjej (Data Girl) in Sweden. Both initiatives promoted women in technology by raising awareness and providing mentoring activities. In 2016, Tele2 was recognized for its strong diversity efforts and awarded third place in AllBright's Equality Prize in Sweden.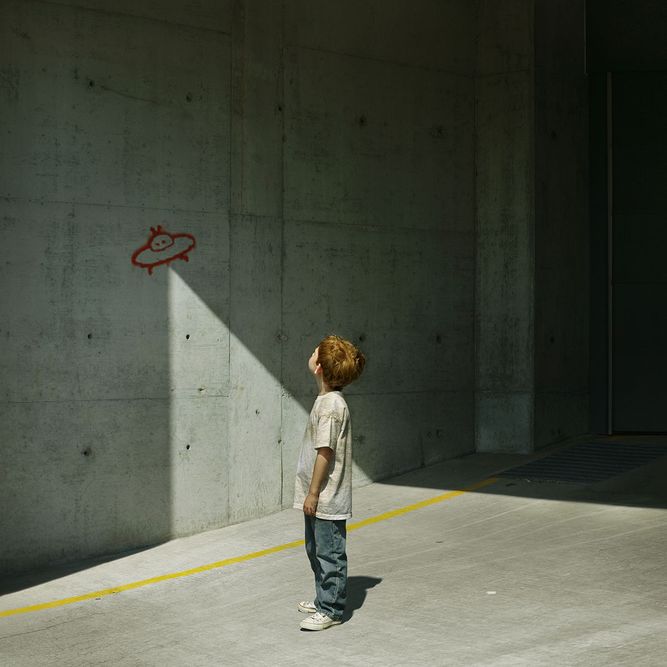 Child protection
Tele2 is serious about protecting children and takes a clear stand to stop the distribution of child sexual abuse images online. Through a close collaboration with INTERPOL, whenever authorities classify content online as child sexual abuse images, Tele2 takes action and blocks the site immediately. On average, Tele2 blocks 500,000 searches for child abuse materials each month in all countries where Tele2 operate. Tele2 also does this within its own organization, meaning that Tele2 has processes in place for detecting and blocking if any employee tries to access such content. Externally, Tele2 partners with Reach for Change for improving children's lives through social innovation and has recently been recognized for significant efforts in the area of child protection by NetClean in its 2016 report. Tele2 has also received top scores from Global Child Forum in its 2016 Nordic Benchmark Report, which highlights Tele2 as an industry leader and as a company that successfully incorporates responsibility for children's rights into governance structures, starting with the highest governing body: the Board of Directors. With our efforts, Tele2 hopes to set a good example for others by showing the significant impact that businesses can have in areas that require greatest attention, such as protecting those in society who need it most.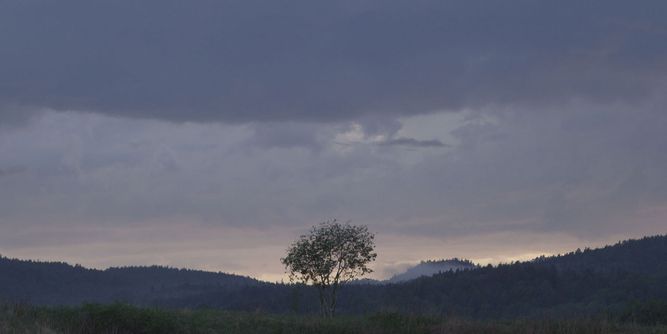 Environment
With regards to the environment, Tele2 works to enable smarter solutions and empower customers to reduce their environmental footprint through the connectivity Tele2 provide. In the global arena, Tele2 recognizes that the ICT industry as a whole and the solutions enabled by IoT play an important role in bridging the gap for society to achieve EU's Environmental targets and the UN Sustainable Development Goals. For example, in 2016 Tele2 IoT announced its partnership with Northstar, a leading energy storage provider, where Tele2 has deployed Tele2 IoT's Product Cloud in order to enable the use of smart batteries and connected energy solutions in the industrial market. Tele2 IoT has also been working together with Vattenfall, one of the largest energy companies in Europe, to connect Vattenfall's chargers for electric vehicles and facilitate smart and reliable infrastructure solutions that pave the way for the electric car transition. These are just some of the examples of how Tele2 IoT is leading the way for a connected society and continues to build partnerships and encourage environmentally conscious innovation.
Tele2 also contributes to reaching EU and UN climate goals by applying new smart energy-efficient solutions to its business. Tele2 continues to look for ways to reduce its own impact through monitoring emissions and energy consumption and encouraging initiatives in its local markets, such as Tele2 Lithuania's switch to 100% green energy. For Tele2, smart environmental choices go hand in hand with our cost conscious attitude. For example, Tele2 makes efforts to implement environmentally conscious technical upgrades in the mobile network and is exploring ways to reduce electricity consumed by base stations.
During 2016, Tele2 has initiated an energy optimization project in Net4Mobility, which includes the utilization of energy efficiency features that allow energy consumption in base stations to be adjusted in relation to the amount of traffic on the network at any given time. By optimizing energy consumption in this way, there is potential to reduce energy related operating costs while also conserving energy in base stations, which account for Tele2's largest source of indirect greenhouse gas emissions.
Review by the board
The Tele2 Corporate Responsibility Advisory Group (CRAG) has been composed of board members Mike Parton, Carla Smits-Nusteling, and Sofia Arhall Bergendorff, Tele2's CEO, the Group General Counsel and the Director of Corporate Responsibility. During the four CRAG meetings that took place in 2016, the discussions involved the CR strategy and performance, progress in Kazakhstan, diversity and inclusion work, the EU directive on non-financial disclosures, and efforts within the area of privacy and integrity. During the last CRAG meeting of 2016, it was decided to give CR even more visibility into the organization and integrate CR further into the Corporate Governance structure. Going forward, CR matters will therefore be put on the agenda of every Audit Committee meeting and will also be reviewed at Board meetings. In addition, a full CR strategy discussion will be held every October at the annual Board Strategy session.
We are improving lives through innovation
Together with our friends at Reach for Change
Innovating a better world for children
In 2010, Tele2 and the other Kinnevik companies founded Reach for Change with the purpose to improve children's lives through social innovation. Today Tele2 and Reach for Change collaborate in three countries: Kazakhstan, Sweden and Croatia, where the latter was successfully launched in May 2015. In these countries we engage communities and employees in the search and development of social entrepreneurs who work to make the world a better place for children.
From idea to impact: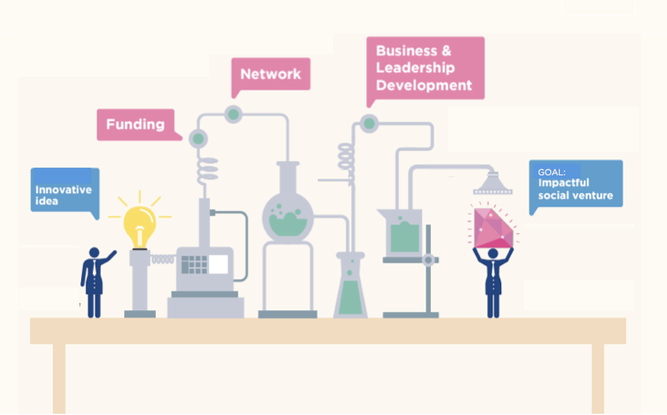 Improving children's lives through social innovation
The end goal of Reach for Change's incubator is to improve children's lives on a big scale. The social entrepreneurs supported work to solve pressing issues facing children within these different areas:
Education


Improve children's access to and quality of education

Health


Help children live healthier lives

Child protection


Protect children from physical and mental abuse and threats

Social inclusion


Allow children from marginalized groups to participate in society on more equal terms

Economic participation


Equip youth to successfully enter the labor market

Expression and participation


Help children express themselves and participate in society through improved access to information
One example is the Swedish social venture Barnrättsbyrån, run by Elin Wernquist. They offer social and legal support to children, with the aim to safeguard and secure their rights:
"The children who come to us ask for different things, like 'I need help to get away from my home' or 'I need counseling to deal with the abuse I have suffered'. To reach these specific wishes we do investigatory work together and in collaboration with us, the child makes sense of their situation and starts articulating their needs"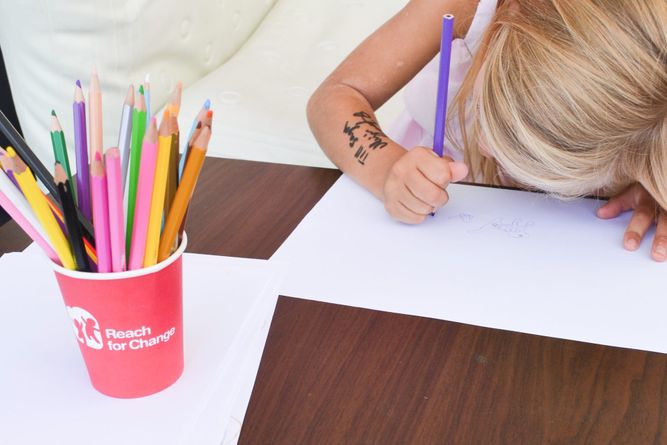 Painting activities together with Change Leader Catharina Richter and the organization Randiga huset, an organization that supports grieving children and their families, and strive to raise community awareness about children in mourning.
One person with true passion, entrepreneurial drive and an innovative idea can change the world. But in order to change the world they also need great support and someone to believe in their idea. This is where Reach for Change's and our support comes in. To help these exceptional individuals to succeed and go from an idea to a sustainable social venture with actual impact on children's lives.
In Reach for Change's multi-year incubator, the social entrepreneurs are actively supported through seed funding, access to business expertise and networking to help them develop their innovations, business model and to maximize their impact on children. Throughout 2015, 15 social entrepreneurs were supported through the collaboration, 11 in Sweden and 4 in Kazakhstan. Another 3 entrepreneurs were also selected in Croatia to be part of the incubator starting 2016.
Development of social ventures during 2015
Each year Reach for Change tracks the development of the social ventures supported, in order to demonstrate and evaluate to what extent the Incubator program is generating targeted results.
In 2015 (compared to in 2014):
73 % of the social enterprises increased their revenues
73 % of the social enterprises employed more staff
53 % of the social enterprises expanded geographically
60 % of the social enterprises supported more children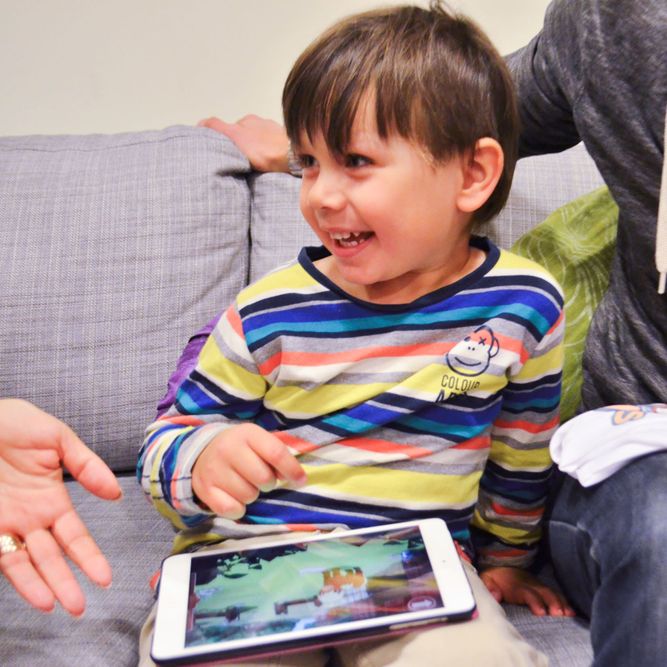 Léon, 3,5 yrs testing Peppy Pals, a mobile EQ game that teaches kids about friendship and empathy to prevent bullying, together with his father Omar and Change Leader Rosie Linder
Each entrepreneur works to impact children's lives in different ways. Some reach many children, working with awareness, attitudes and knowledge. Others reach fewer children, with a more in-depth approach, focusing on skills, behavior and status.
In 2015, we supported a total of 147 246 children through the collaboration. One of them is David in Sweden. (note that the name is fictive in order to protect the child.)
"David called us, and with a very hesitant and nervous voice, slowly found the words to tell us about the physical abuse he had been subjected to for a large part of his upbringing. He had never told anyone about his stepfather abuse, so he was understandably anxious about where his story would take him. We started by informing him of Barnrättsbyrån, our role and what we can help with. Then we spoke about his rights, putting his experiences into a context, and then informing about social services and their duties. As his secret was out it was too difficult for David to return to his home so he spent the coming weeks on friends' sofas, sleeping in train stations and in the gym toilets. We accompanied David to a number of meetings, advocating on his behalf and for his needs. After some time David was placed in supported housing and was offered family therapy. David has told us afterwards, that it was particularly meaningful to him that he felt that someone believed in him and that we reacted."
This story is told by Elin Wernquist, Barnrättsbyrån, Sweden

Read more about the social entrepreneurs and Reach for Change here.
Crunch the numbers
Measuring what matters - social, environmental and economic performance indicators
Numbers and breakdown of employees (G4-LA12)
On December 31, 2016, the number of employees in Tele2 was 6,027 (5,574) of which 40 (40) percent woman and 60 (60) percent men. A breakdown per gender and age group etc. is presented below.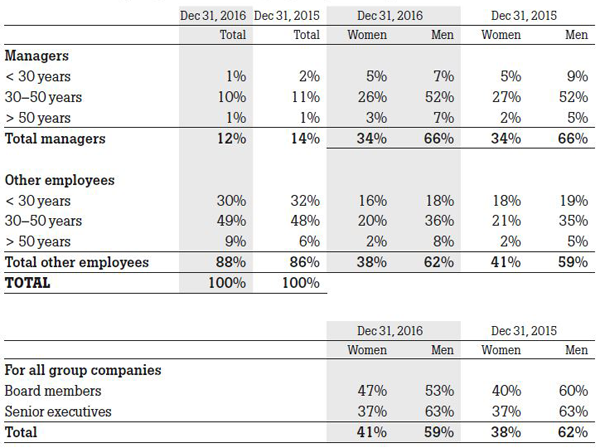 Average number of employees per region, by gender (G4-LA12 cont.)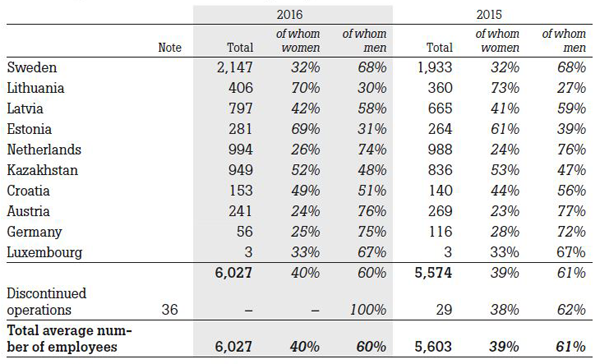 Diversity and equal opportunities (G4-LA12)

Employee turnover (G4-LA1)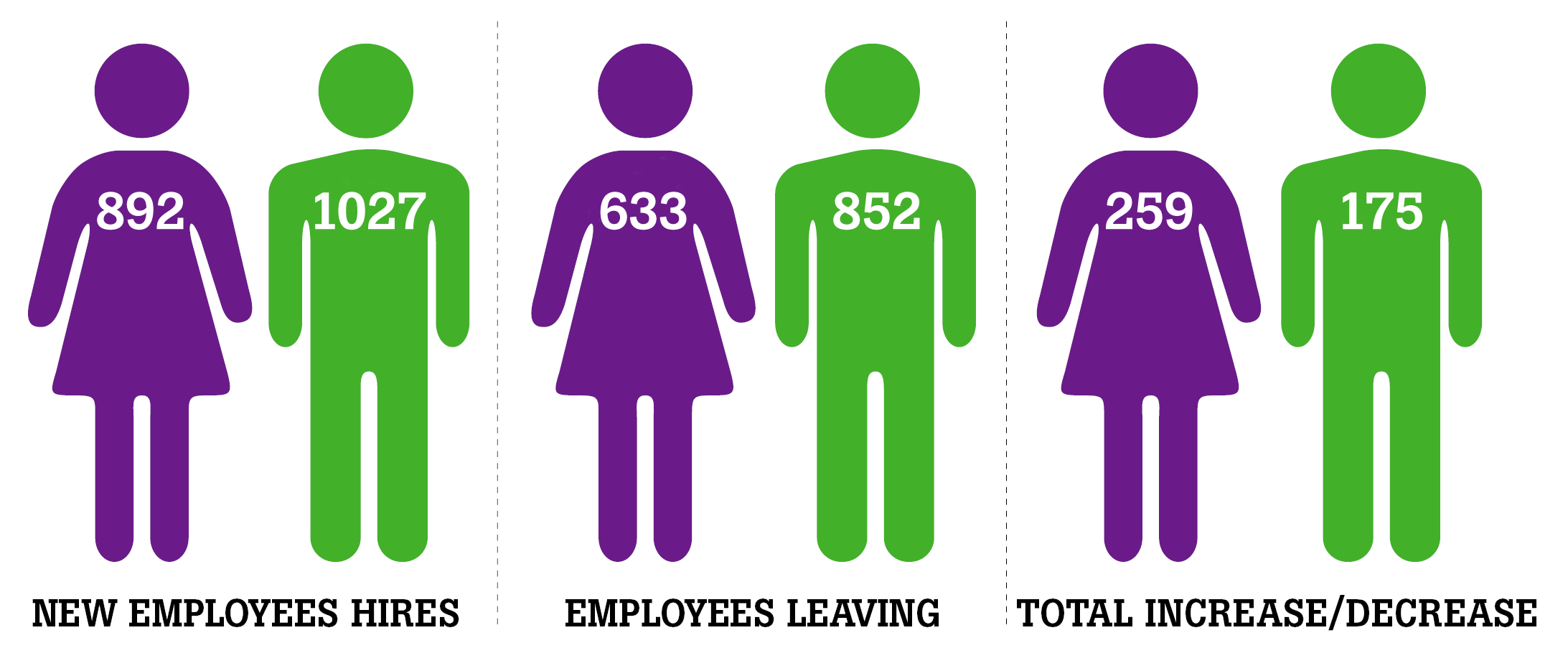 Injuries and sick leave (G4-LA6)*
Tele2 currently does not follow up on personnel injuries on an aggregated group level. Sick-leave is followed up on and reported for all countries except for Kazakhstan and Austria.

No fatalities have been reported during the year
* Includes all countries in the group except Kazakshtan and Austria.
Discrimination (G4-HR3)
There have been 3 incidents of discrimination during 2016. All 3 have been reviewed and resulted in remediation plans, which have been implemented. None of these 3 incidents required further action to be taken after the implementation of the remediation plans, and are now considered finalized.
Corruption (G4-SO5)
Tele2 has not had any reported cases of corruption during the year nor the previous year. Furthermore, there has not been any reported concluded public legal cases related to corruption brought against Tele2 during the year nor the previous year.
Tele2's definition of corruption is when offering, giving, soliciting, or acceptance of an inducement or reward which may influence any person to act inappropriately. The definition excludes pure telecom fraud cases. For additional information please refer to Tele2's website, CR section.
Anti-competitive behaviour, anti-trust, and monopoly practices (G4-SO7)
Number of reported legal actions for anti-competitive behaviour, antitrust, and monopoly practices, pending or completed, in which Tele2 has been identified as a participant during the year is stated below.

1) Two cases related to a special offer by Tele2 Kazakhstan called "incoming call bonus", which enabled Tele2 Kazakhstan's clients to earn bonuses for incoming calls from the competition. The offer itself was considered in breach of the anti-monopoly law and resulted in a fine. In addition, a fine was imposed by the Antimonopoly authority for the use of the trademarks of the competition in the marketing campaign. A third fine was imposed by the Antomonopoly authority when the trademarks of the competition were illegally used in another marketing campain.
2) Less than 50,000 Euro total.
Laws and regulations (G4-SO8)
During the year, there was one reported case of sanction for non compliance with applicable laws and regulations in Sweden. An injunction was issued by PTS in 2014 to resume data storage on the basis of the Swedish law on Electronic Communication. The case was appealed in Swedish administrative court and referred to the ECJ for a preliminary ruling. On 21 December 2016, the ECJ ruled in favour of Tele23). The local court will now try the case on the basis of the guidance by the ECJ. During the previous year, one case of sanction was reported in Sweden. The case took place in Net4Mobility, the infrastructure joint operation between Tele2 Sweden and Telenor Sweden. However, there were no reported cases brought through dispute resolutions during the year nor the previous year.
3) For more information on the case, please refer to the section Corporate Responsibility in the Administration Report
Products and services health and safety impacts (G4-PR2)
Tele2 has had six (nine) reported non-compliance incidents concerning the products' and services' health and safety impacts during their life cycle. All six (nine) were in Kazakhstan and six (seven) resulted in a fine2) and none (two) in a warning. Three of them concerned the violation of sanitary rules for the installation of base stations where the company was fined ~1 625 EUR total for failing to obtain a sanitary epidemiological certificate before the construction of a base station. The other three concern the violation of rules for the operation of base stations where the company was fined ~4 700 EUR total for failing to obtain permits for the operation of base stations. There were no reported non compliances with voluntary codes during the year nor the previous year.
2) The fines have not been significant
Customer satisfaction (G4-PR5)
83.0%
The average customer satisfaction during 2016 has been 83 %, which Tele2 is pleased with. The results of our customer service survey are based on global standards and cover customers in all of Tele2's countries of operation. The surveying of customer satisfaction is done continuously throughout the year. Tele2 strives for continuous improvement of the underlying evaluation process to provide the best service to its customers.
Marketing communication, advertising and sponsorship (G4-PR7)
Number of reported incidents of non-compliance regarding marketing communication, advertising and sponsorship, resulting in fines, penalties, warnings or non-compliance with voluntary codes during the year are stated below.

2) The fines have not been significant
Customer privacy and losses of customer data (G4-PR8)
Number of reported substantiated complaints during the year, regarding breaches of customer privacy and losses of customer data, from outside parties and substantiated by Tele2 or from regulatory bodies as well as reported leaks, thefts or losses of customer data is stated below.

The use of products and services (G4-PR9)
No significant fines1) have been reported during the year nor the previous year for non-compliance with laws and regulations concerning the use of products and services.
1) Significant fines = defined by Tele2 as fines exceeding EUR 250,000 (equivalent to SEK 2.3 million)
Energy consumption within the organization (G4-EN3)
| Fuel consumption (GJ) | 2015 | 2015 share of renewables | 2016 | 2016 share of renewables |
| --- | --- | --- | --- | --- |
| Gas | 21,491 | 1.7% | 4,295 | 0.31% |
| Petrol | 24,823 | 2.0% | 20,483 | 1.48% |
| Diesel | 54,592 | 4.3% | 53,218 | 3.84% |
| Ethanol | 125 | 0.0% | 81 | 0.01% |
| Biogas | 0 | 0.0% | 207 | 0.01% |
| Total share of renewables | 0,1% | | 0,37% | |
| Fuel consumption (GJ) | 2015 | 2015 share of renewables | 2016 | 2016 share of renewables |
| --- | --- | --- | --- | --- |
| Gas | 21,491 | 1.7% | 4,295 | 0.31% |
| Petrol | 24,823 | 2.0% | 20,483 | 1.48% |
| Diesel | 54,592 | 4.3% | 53,218 | 3.84% |
| Ethanol | 125 | 0.0% | 81 | 0.01% |
| Biogas | 0 | 0.0% | 207 | 0.01% |
| Total share of renewables | 0,1% | | 0,37% | |
Electricity consumption is the major source of Tele2´s emissions of greenhouse gases. In the Greenhouse Gas Protocol there are two alternative methods for calculating the emissions in scope 2: the location-based method and the market-based method. The location-based method considers the average emission intensity for the whole grid, while the market-based method considers the market for Guarantees of Origin. Using the market-based method allows you to choose low emitting production, but if you do not make an active choice the emission intensity for the so called "residual mix" will be higher than the average for the whole grid. As the choice of method has such an impact on the calculations of Tele2's greenhouse gas emissions the result is disclosed with both methods where the market-based method always shows the highest value. Tele2´s electricity consumption increased with 12 percent compared to 2015 as a result of the construction of new masts and base stations in Kazakhstan and the Netherlands. Electricity consumed in base stations, which counts for approximately 84/84 percent of our total emissions, is by far the largest source of indirect emissions.
Based on the result in 2016, Tele2 could be said to have a potential environmental liability related to climate change of 127,030/174,213 tons of CO2-eq. Should these emissions be regulated, for instance as a result of an international agreement, it could mean an estimated cost of 679,611/932,941 EUR for buying allowances, calculated by using today's spot price in the EU Emission Trading System (EU-ETS) (5.35 EUR, 2016 average). Since it could not be considered likely that ICTs would be included in the EU ETS, calculations on the open carbon market could result in a different price. According to the second Stern report, which was published in June 2014, the price on carbon dioxide that is needed to avoid more than 2 degree above pre-industrial levels, would be 32-103$ per ton. If Tele2's emissions for 2016 were put in monetary terms in that respect, with the price of 103$ per ton, the total cost would be 11.8/16,2 MEUR.
Environmental regulations (G4-EN29)
No significant fines1), non-monetary sanctions or cases associated with environmental regulations brought through dispute resolution mechanisms have been reported during the year nor the previous year.
1) Significant fines = defined by Tele2 as fines exceeding EUR 250,000 (equivalent to SEK 2.3 million)
Energy consumption per energy carrier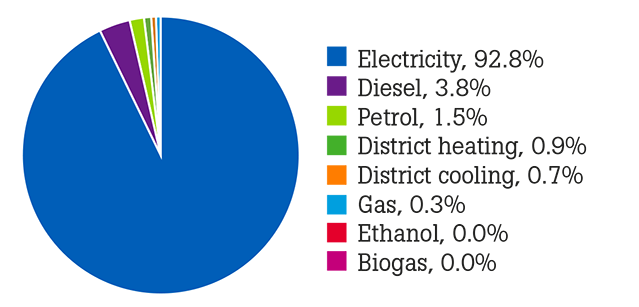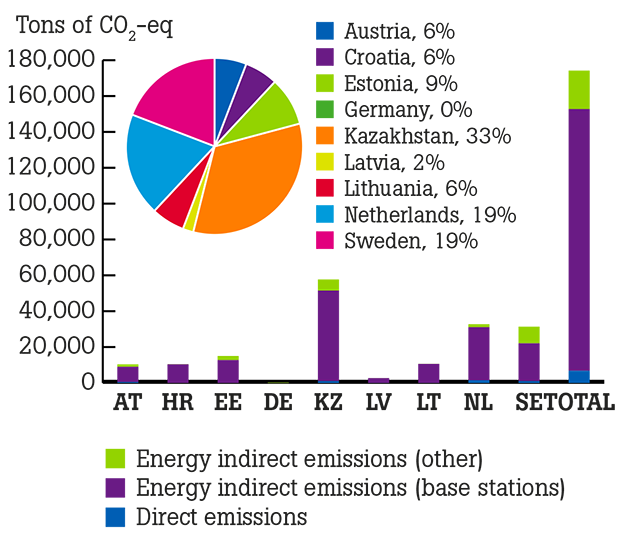 Direct and energy indirect greenhouse gas (GHG) emissions (scope 1 and 2), tons of CO2-eq (G4 EN15 AND 16
2015
2016
Country
Direct
Energy indirect
Total
Share
Direct
Energy indirect
Total
Share
Austria
742
10,245
10,987
7.04%
700
9,848
10,548
6.05%
Croatia
278
6,667
6,945
4.45%
210
10,481
10,691
6.14%
Estonia
222
17,144
17,366
11.12%
240
15,012
15,252
8.75%
Germany
206
384
590
0.38%
104
245
350
0.20%
Kazakhstan
1,244
41,820
43,064
27.58%
1,145
56,700
57,845
33.20%
Latvia
449
5,725
6,174
3.95%
365
2,937
3,302
1.90%
Lithuania
266
9,833
10,099
6.47%
255
10,631
10,886
6.25%
Netherlands
2,778
20,866
23,644
15.14%
2,053
31,253
33,306
19.12%
Sweden
1,790
35,496
37,286
23.88%
1,676
30,355
32,031
18.39%
Total
7,975
148,180
156,155
6,749
167,464
174,213
Economic value generated and distributed (G4-EC1)
See Consolidated income statement, Tele2 Annual Report 2016, page 28.
G4 is a given
Drill into our GRI index and get the full picture here
Disclosure of management approach
Aspect

Indicator

Why aspect is material to Tele2

Aspect important within Tele2

Aspect important outside Tele2

Disclosure on Management Approach EC

Economic Performance

G4-EC1

Economic performance is identified as a material aspect because Tele2 is a profit driven corporation that needs to make a profit to remain viable. Tele2's profits in turn contribute to society through payment of wages, taxes and purchases services and products. This in turn impacts economic activity, government and society and contributes to economic growth. In order to manage impacts related to economic performance, Tele2's internal audit regularly monitors our payroll and the payment of taxes in countries of operation.

Yes

Yes

Disclosure on Management Approach EN

Energy, Emissions and Compliance

G4-EN3, EN15, EN16, EN29

Energy, emissions and environmental compliance are identified as material aspects in light of climate change being a global challenge which the ICT industry contributes to, but can also contribute to solving problems and helping mitigation. For Tele2, electricity consumption is key as this is the major source for Tele2's emissions of greenhouse gases. To mitigate these impacts Tele2 is gradually transitioning to renewable energy when feasible. Tele2's local teams follow up and ensure compliance with relevant environmental laws and regulations in its countries of operation in order to perform in line with internal and external stakeholders' expectations.

Yes

Yes

Disclosure on Management Approach LA

Employment, Diversity and Equal Opportunity, Non-Discrimination

G4-LA1, LA12, HR3

In order to deliver the best service in the industry, Tele2 invests in the well-being and development of its employees. Our ambition is for all employees to have performance plans and annual performance dialogues, including senior executives. Tele2 is also planning to introduce development plans for all employees. In addition, an employee survey is conducted yearly to follow-up on our employees' satisfaction and well-being. Results are gauged against others to understand changes and trends. Critical points of improvement are communicated to local managers who turn them into local action plans. It is crucial for Tele2 to attract and retain talented and diverse employees to be able to deliver on our strategy as well as maintaining our culture. Diversity is an integral aspect of Tele2's recruitment processes. A gender KPI is followed up on all functional levels to inform promotion and recruitment decisions.

Yes

Occupational Health and Safety

G4-LA6

Tele2's strives to provide our employees with a safe and healthy work environment in which they can develop their long term ambitions. Tele2 has policies and processes in place to ensure access to health care and for the prevention of accidents. In Sweden, employees have an insurance program that covers not only rehabilitation but also preventive care calls with specialists. There are also policies in place to support employees in treating and preventing injuries. In 2016, Tele2 introduced self assessment checklists for both managers and employees to ensure that employees are satisfied with their work environment as well as meeting legal requirements. These checklists are updated on a regular basis. Tele2 follows up on employee absences and offers re-habilitation plans for employees who have been ill long-term with support of external experts. Tele2's approach to health and safety is adapted to the local legislation in each of our countries of operation.

Yes

Freedom of Association and Collective Bargaining, Child Labor, Forced or Compulsory Labor

G4-HR4, HR5, HR6

Tele2 aims to conduct its business with the highest degrees of ethics while also being compliant to local laws and regulations and respecting human rights. Tele2's different markets are all different in this aspect, with Kazakhstan being the most challenging. To mitigate the risks Tele2 uses our Business Partner Code of Conduct (BPCC) based on the United Nations Global Compact. It encompasses labor rights, anti-corruption, environment, freedom of association and collective bargaining, child labor and forced labor and other basic human rights. In order to mitigate risks related to human rights and labor conditions in the supply chain Tele2 requires its significant Business Partners, with contract values exceeding 1MSEK per year, to sign the Tele2 Business Partner Code of Conduct. By doing so Tele2 includes clauses about Human Rights, Labor Rights, Anti-corruption and Environment etc. into a vast majority of its agreements with its business partners. In addition, approximately 21% of spend of the business partners which are managed within the sourcing & procurement processes, described above, have also been screened and monitored with the EcoVadis E-TASC supply chain sustainability management system.

In case of breaches of the Business Partner Code of Conduct, Tele2 primarily conducts dialogues with Business Partners to establish remediation plans. If this would not produce the desired changes, Tele2 can terminate relationships with the specific business partner.




Yes

Yes

Disclosure on Management Approach SO

Anti-corruption, Anti-competitive Behavior, Compliance

G4-SO5, SO7, SO8

Integrity and ethics are integral parts of Tele2's values and code of conduct. Therefore efforts to promote fair and ethical business, such as anti-corruption and preventing anti-competitive behavior, are part of our daily operations. Compliance to local laws and regulations ensures investors that Tele2 is a trustworthy business partners. Tele2 has established a common perspective on group level of how to deal with anti-competitive behavior and anti-corruption. Responsibility lies with local head of legal departments to put it into practice. For example in Sweden, both anti-competitive behavior and anti-corruption are included in the education of new employees, existing managers and selected risk functions (for example procurement). Employees also retake the education annually. Responsibility for conducting relevant training is the duty of each country organization. Tele2 has the ambition to train 100% of its Kazakhstan employees on a speciafically developed anti-corruption training in 2017. Complying with local laws and regulations is a responsibility of the local legal team in each country. The legal teams make use of an open door policy for employees seeking advice on ethical and lawful behavior.

Yes

Yes

Disclosure on Management Approach PR

Customer Health and Safety*

G4-PR2

Tele2 works proactively to identify and monitor potential health and safety issues related to our products and services.

Yes

Product and Service Labeling

G4-PR5

Making sure that our customers are satisfied and maintaining long term relationships is a cornerstone in our strategy. Tele2 regularly follows up on customer satisfaction in order to help our customers to make the most of our products and services. The results of our customer service survey are based on global standards and cover customers in all of Tele2's countries of operation. Tele2 strives for continuous improvement of the underlying evaluation process to provide the best service to its customers. Furthermore, Tele2 and its subsidiary Comviq have been ranked by SKI - an independent Swedish quality index - as the telecom operator with the second most satisfied customers in Sweden. Tele2 was also the top performer for fixed phone lines and broadband for corporate customers in Sweden.

Yes

Yes

Marketing Communications

G4-PR7

Marketing Communications is a core aspect of Tele2's interaction with its customer base and therefore identified as a material aspect. Responsibility for marketing and sales lies with local teams as legislation differs between countries. In Sweden there is an education for new employees on guidelines for communication and marketing. This has not yet been rolled out in other countries. The legal team reviews marketing material before it is published to assure compliance. Ethical communication is also included in the Code of Conduct, which all employees are trained in every year.

Yes

Customer Privacy

G4-PR8

Tele2 has customer data privacy of our customers as a high priority. We have organizational and technical measures, policies and guidelines, and a governance structure which all strive to protect our customers' data privacy. At the Group level, a Group Privacy officer has been appointed. In several of our markets, we have a dedicated Data Privacy Officer who works with privacy questions. Our privacy impact assessment has been integrated in our project model in Sweden and is planned to be rolled out to other countries. Tele2 continuously monitors the development of laws and regulations, for example the introduction of GDPR in Europe which will come into force in 2018. Data privacy processes are similar in all European countries. In Kazakhstan these processes have been adapted to local conditions and regulations. During 2017 Tele2 will introduce a data privacy awareness training for all employees.

Yes

Yes

Compliance

G4-PR9

Tele2 aims to deliver high quality in its products and services and legal compliance is of course an important part of this. This is a key aspect of our operations on a daily basis. The responsibility for complying with laws and regulations lies with the legal teams in each operating country.

Yes
General Standard Disclosures
Reference
External assurance
Strategy and analysis
G4-1 Statement from CEO
Tele2 Annual Report 2016, page 2-4
Reviewed but not under assurance
Organizational profile
G4-3 Name
Tele2 Annual Report 2016, page 9
Yes
G4-4 Primary Brands and offer
Tele2 Annual Report 2016, page 12-21
Yes
G4-5 Headquarters
Tele2 Annual Report 2016, page 77
Yes
G4-6 Countries of operation
Tele2 Annual Report 2016, page 12-21
Yes
G4-7 Nature of ownership and legal form
Tele2 Annual Report 2016, page 9
Yes
G4-8 Markets served
Tele2 Annual Report 2016, page 12-21
Yes
G4-9 Scale of the organization
Tele2 Annual Report 2016, page 10, 12-21
Yes
G4-10 Employees
Tele2 Annual Report 2016, page 60
Yes
G4-11 Collective bargaining
Employees in Sweden, the Netherlands and Austria are covered by collective bargaining agreements. For other countries this may vary though Tele2 has a positive view on collective bargaining agreements and such agreements are in line with our Code of Conduct. The total number of employees covered by collective bargaining agreements is 41%.
G4-12 Supply chain
Most suppliers, considering spend, are producers of input material or products such as handsets, base stations, sim cards, construction companies for telecom mast constructions, Network & IT system solutions platforms as well as service providers within areas such as customer operations and media. Additionally, suppliers or Business Partners (as we call them) may be consultants, financial auditors, M&A firms, legal advisors, etc. Suppliers are either contracted through Group Procurement, Country Procurement or directly by various business ownership parties at Group or country level. Our first tier supply lines are estimated to cover several thousands of contracts.
G4-13 Significant changes
Tele2 has acquired TDC Sweden in 2016, resulting in an employee growth for Tele2 of approximately 800 employees during the year. Besides this, there were no significant changes in the organization's ownership structure or facilities. Regarding our supply chain, with several thousands of suppliers, there may naturally be changes from year to year as contracts expire and new potential suppliers enter the market, but these changes have not been significant.
G4-14 Precautionary approach
Tele2 works proactively to identify and monitor our most significant risks through an enterprise risk management process. The purpose of this process is to minimize surprises and improve the decision making in order for Tele2 to achieve its strategic, financial, compliance and operational objectives. Among other topics, we continuously follow research developments on electro-magnet fields caused by telecommunication networks.
G4-15 External commitments
We adhere to applicable parts of the following: the United Nations Universal Declaration of Human Rights, the International Labor Organization's core conventions, the OECD Guideline for multinational enterprises, the United Nations Global Compact, the United Nations Guiding Principles on Business and Human Rights and the Children's Rights Business Principles.
G4-16 Memberships
Tele2 are currently actively engaged in GSMA, the Global e-Sustainability Initiative (GeSI) as a regular member and the Sida Swedish Leadership for Sustainable Development (SLSD) initiative.
Identified material aspects and boundaries
G4-17 Entities included
The report covers Tele2 Group. Legal entities are listed in the consolidated financial statement in Note 16 in the Tele2 Annual Report 2016, page 71.
Yes
G4-18 Materiality process and boundaries
The telecommunication's industry has continued to focus on ethics, risks for corruption and human rights such as privacy & freedom of expression (including the UNGP) and Tele2 has aligned its priorities with the industry. Tele2 has started looking into opportunities for the telecom industry to contribute to child protection. We have a web based GRI report which is shrinking gradually as we place more and more information into the Administration Report. CR reporting and data is increasingly being signed off by the Board and audited with reasonable assurance. Our reporting boundaries have been defined through interactions with stakeholders and during in-house discussions with for example the Legal department, where the degree of ownership and areas of work for each entity were reviewed. The content of reported information mirrors our material CR areas as defined in the corporate strategy. We have continued our journey to integrate CR into core business processes, such as the corporate strategy. The previous satellite CR strategy has been let go of and CR reporting is now integrated in the corporate strategy. The Leadership team has approved the areas of our materiality table which were integrated into the Corporate strategy during 2015. The areas are divided into tier 1: Privacy & Integrity, Ethics & Compliance, and tier 2: Environment (CO2 as opportunity), Child Protection and Diversity.
G4-19 Material aspects

We have chosen to merge the result of our materiality analysis with our Corporate strategy.

See DMA-table above.

G4-20 Aspect inside boundary
See DMA-table above.
G4-21 Aspect outside boundary
See DMA-table above.
G4-22 Restatements
No significant restatements within the CR field.
G4-23 Significant changes from previous reporting periods
Tele2 has purchased TDC Sweden during 2016. Information is reported for TDC's operations from November 2016.
Stakeholder engagement
G4-24 Stakeholder groups engaged

We are open to engage with all relevant stakeholders. Stakeholder dialogues are conducted regularly in various formats during the year, ranging from one-to-ones to larger gatherings.

G4-25 Stakeholder identification
We are open to any constructive dialogue, e.g. we do not exclude anyone. Tele2's stakeholders can generally be described as parties and people affecting our business, as well as parties and people being affected by it.
G4-26 Stakeholder engagement
Tele2 has ongoing dialogues with many of our different stakeholder groups. Among others, this can take place in the form of dialogues with investors, roadshows, interactions with customers and civil society and dialogues with industry organizations. The Annual General Meeting is a key point of contact for Tele2 with our stakeholders. During the Annual General Meeting Tele2 presents and discuss both financial and sustainability related results.
G4-27 Stakeholder topics
Stakeholder engagements are built into business processes. This includes having CR questions in the employee survey "My Voice", customer surveys, Corporate Responsibility Advisory Group (CRAG) meetings for dialogues with our largest owner, being active with Government Relations and the EU/EC, answering questionnaires from NGOs, meeting analysts, analyzing media reports, etc. Occasionally or when deemed necessary, we conduct specific tailored engagements, for example as we did when developing the previous CR Strategy and the materiality analysis. The frequency of engagements varies from once a year (e.g. My Voice) to several times a year (e.g. investors). We have not had any particular separate engagement for the preparation of the report.
Report profile
G4-28 Reporting period
2016-01-01 to 2016-12-31
G4-29 Previous report
2016-03-23
G4-30 Reporting cycle
Annual
G4-31 Contact point for questions regarding the report
Group Director of Regulatory Affairs and Corporate Responsibility: Ilse van der Haar, email: ilse.vanderhaar@tele2.com
G4-32 GRI option and index
Tele2 reports G4 in accordance - Core. The Administration report is externally assured by Deloitte, see the Annual report for more information.
G4-33 External assurance
The Administrative report has been externally assured by Deloitte under the same terms as financial data. One Assurance report has been issued indicating a higher degree of assurance compared to, for example, limited assurance according to RevR 6. The Corporate Governance Report has been reviewed by Deloitte. The Assurance Report is available in the Annual Report. Deloitte is independent to Tele2. The CR reporting and assurance processes are being integrated into Tele2's general business processes. Seeking external assurance for sustainability information is one of Kinnevik's CR Requirements.
Yes
Governance
G4-34 Governance structure
Tele2 Corporate Governance Report 2016, page 1 and CR Governance website
Reviewed but not under assurance
G4-35 Delegating authority
Tele2 Corporate Governance Report 2016 and CR Governance website
Reviewed but not under assurance
G4-36 Position and responsibility
Tele2 Corporate Governance Report 2016 and CR Governance website
Reviewed but not under assurance
G4-38 Board composition
Tele2 Corporate Governance Report 2016, page 3-5
Reviewed but not under assurance
G4-39 Chair of the highest governance body
Tele2 Corporate Governance Report 2016, page 3-4
Reviewed but not under assurance
G4-40 Nomination and selection process
Tele2 Corporate Governance Report 2016, page 1, 3 and the external webpage
Reviewed but not under assurance
G4-41 Conflict of interest avoidance
Tele2 Corporate Governance Report 2016
Reviewed but not under assurance
G4-42 Purpose, value and mission
Annual General Meeting and Tele2 Corporate Governance Report
Reviewed but not under assurance
G4-43 Measures taken to develop and enhance the Board's knowledge of CR
The CRAG Board members support the full Board in CR matters. For each Board meeting the Director CR prepares a "CR Update" appendix to the Board material.
G4-45 The Board's role in identifying risks and opportunities
CR risk management is part of Kinnevik's CR requirements. Risks are discussed in the CRAG and management of risks are reported in the CR Update to the Board meetings. Stakeholder consultation normally includes discussions about risks.
G4-46 Review of risk processes
Tele2 Corporate Governance Report 2016, page 9-11
Reviewed but not under assurance
G4-47 Frequency of review
Once every quarter in the CRAG meetings and Audit Committee meetings.
G4-48 Approval of CR report
Tele2's most material aspects are reported in the Administration Report which is externally assured and approved by the Board.
Yes
G4-49 Critical concerns
One reporting channel is the CR Update appendix to each Board meeting. CRAG is another. Reporting to LT takes place when appropriate throughout the year.
G4-52 Process for determining remunerations
Tele2 Annual Report, page 23
Yes
G4-53 Stakeholders views
Shareholders approve the remuneration guidelines for senior executives through the AGM.
Ethics and integrity
G4-56 Code of conduct
Code of Conduct and Business Partner Code of Conduct, see the Our Responsibility section on our website
G4-57 Seeking advice on ethics and compliance
For internal stakeholders Tele2's Legal Department has an open door policy which is being used actively by employees seeking advice on ethical and lawful behavior.
G4-58 Whistleblowing mechanisms
Tele2 has a whistle blower process in place. It is also available for our Business Partners that have signed our Business Partner Code of Conduct. Even external parties could use it as the instructions are publicly available on www.tele2.com.
Key performance Indicators
| Specific standard disclosure | Reference | External assurance |
| --- | --- | --- |
| DMA Material aspects | See this section, scroll up | |
| Economic performance | | |
| G4-EC1 Direct economic value generated and distributed | Tele2 Annual Report 2016, page 28. Tele2 currently does not track data for taxes paid on a country-by-country level. | Yes |
| Environmental performance | | |
| G4-EN3 Energy consumption within the organization | Scroll up to the section "Crunch the numbers" | |
| G4-EN15 Direct greenhouse gas (GHG) emissions (Scope 1) | Scroll up to the section "Crunch the numbers" | |
| G4-EN16 Energy indirect greenhouse gas (GHG) emissions (Scope 2) | Scroll up to the section "Crunch the numbers" | |
| G4-EN29 Monetary value of significant fines and total number of non-monetary sanctions for non-compliance with environmental laws and regulations | No significant fines, non-monetary sanctions or cases associated with environmental regulations brought through dispute resolution mechanisms has been reported during the year nor previous year. Significant fines are defined by Tele2 as fines exceeding EUR 250,000 (equivalent to SEK 2.3 million). | Yes |
| Social performance | | |
| G4-LA1 Total number and rates of new employee hires and employee turnover by age group, gender, and region | Scroll up to the section "Crunch the numbers" Segmentation of personnel turnover by age and region are not included. Tele2 does not use this information in our day-to-day operations and it is therefore not presented separately. | |
| G4-LA6 Type of injury and rates of injury, occupational diseases, lost days, and absenteeism, and total number of work related fatalities, by region and by gender | Scroll up to the section "Crunch the numbers" Tele2 currently does not follow up on personnel injuries on an aggregated group level. Sick-leave is followed up on and reported for all countries except for Kazakhstan and Austria. | |
| G4-LA12 Composition of governance bodies and breakdown of employees per employee category according to gender, age group, minority group membership, and other indicators of diversity | Scroll up to the section "Crunch the numbers" | |
| G4-HR3 Total number of incidents of discrimination and corrective actions taken | There have been 3 incidents of discrimination during 2016. All 3 have been reviewed and resulted in remediation plans, which have been implemented. None of these 3 incidents required further action to be taken after the implementation of the remediation plans, and are now considered finalized. | |
| G4-HR4 Operations and suppliers identified in which the right to exercise freedom of association and collective bargaining may be violated or at significant risk, and measures taken to support these rights | Tele2 aims to conduct its business with the highest degrees of ethics while also being compliant to local laws and regulations and respecting human rights. Tele2's different markets are all different in this aspect, with Kazakhstan being the most challenging. To mitigate risks we use our Business Partner Code of Conduct (BPCC) based on the United Nations Global Compact. It encompasses labor rights, anti-corruption, environment, freedom of association and collective bargaining, child labor and forced labor, and other basic human rights. In order to mitigate risks related to human rights and labor conditions in our supply chain, Tele2 requires its significant Business Partners - with contract values exceeding 1MSEK per year - to sign the Tele2 Business Partner Code of Conduct. By doing so Tele2 includes clauses about Human Rights, Labor Rights, Anti-corruption and Environment etc. into a vast majority of its agreements with its business partners. In addition, approximately 21% of spend of the business partners which are managed within the sourcing & procurement processes described above have also been screened and monitored with the EcoVadis E-TASC supply chain sustainability management system. In case of breaches of the Business Partner Code of Conduct, Tele2 primarily conducts dialogues with Business Partners to establish remediation plans. If this would not produce the desired changes, Tele2 can terminate relationships with the specific business partner. | |
| G4-HR5 Operations and suppliers identified as having significant risk for incidents of child labor, and measures taken to contribute to the effective abolition of child labor | See G4-HR4 | |
| G4-HR6 Operations and suppliers identified as having significant risk for indicents of forced or compulsory labor, and measures to contribute to the elimination of all forms of forces or compulsory labor | See G4-HR4 | |
| G4-SO5 Confirmed incidents of corruption and actions taken | Tele2 has not had any reported cases of corruption during the year nor previous year. Furthermore, there has not been any reported concluded public legal cases related to corruption brought against Tele2 during the year nor previous year. Tele2's definition of corruption is when offering, giving, soliciting, or acceptance of inducement or reward which may influence any person to act inappropriately. The definition excludes pure telecom fraud cases. - Telecom fraud is when someone is deceiving Tele2 owned telecom systems or customers to get personal gain. Examples of telecom fraud is SIM-box fraud, call transfer fraud, false answer supervision, location routing number fraud, revenue sharing fraud, multiple transfer fraud For additional information please refer to Tele2's website, CR section. | Yes |
| G4-SO7 Totalt number of legal actions for anti-competitive behavior, anti-trust, and monopoly practices and their outcomes | Scroll up to the section "Crunch the numbers" | Yes |
| G4-SO8 Monetary value of significant fines and total number of non-monetary sanctions for non-compliance with laws and regulations | There was one case in which Tele2 chose to act in breach of the Swedish sector specific regulation (LEK), under which Tele2 is obliged to store traffic data, in order to obtain a formal injunction that has been appealed to the administrative courts for legal examination of the subject matter. During the appeals process Tele2 has followed the injunction. Tele2 lost the case in the Administrative Court but Tele2 appealed the injunction to the Administrative Court of Appeal which in turn has sent the case to the EU Court of Justice for a preliminary ruling. The EU Court of Justice ruled on 21th of December that the Swedish data retention legislation is in conflict with the charter on human rights. The Administrative court of Appeal has shortly thereafter stayed the injunction until the final decision will be taken by the Administrative Court of Appeal. Tele2 has as a consequence stopped storing data according to the Swedish data retention legislation. | Yes |
| G4-PR2 Total number of incidents of non-compliance with regulations and volunatry codes concerning the health and safety impacts of products and services during their life cycle, by type of outcomes | Tele2 has had 6 (9) reported non-compliance incidents concerning products' and services' health and safety impacts during their life cycle. All 6 (9) were in Kazakhstan and all 6 (7) resulted in a fine* and 0 (2) in a warning. There were no reported non-compliances with voluntary codes during the year nor previous year. * The fines have not been significant | Yes |
| G4-PR5 Results of surveys measuring customer satisfaction | The average customer satisfaction during 2016 has been 83 %, which Tele2 is pleased with. The results of our customer service survey are based on global standards and cover customers in all of Tele2's countries of operation. The surveying of customer satisfaction is done continuously throughout the year. Tele2 strives for continuous improvement of the underlying evaluation process to provide the best service to its customers. | Yes |
| G4-PR7 Total number of indicents of non-compliance with regulations and voluntary codes concerning marketing communications, including advertising, promotion, and sponsorship, by type of outcomes | Scroll up to the section "Crunch the numbers" | Yes |
| G4-PR8 Total number of substantiated complaints regarding breaches of customer privacy and losses of customer data | Scroll up to the section "Crunch the numbers" | Yes |
| G4-PR9 Monetary value of significant fines for non-compliance with laws and regulations concerning the provision and use of products and services | No significant fines* have been reported during the year nor previous year for non-compliance with laws and regulations concerning the use of products and services. Significant fines are defined by Tele2 as fines exceeding EUR 250,000 (equivalent to SEK 2.3 million). | Yes |