30 years of customer service - meet Fredric "Calle" Carlsson
This year, Tele2 turns 30 years, and as part of our celebration of our anniversary, we meet some of our Tele2ers who have been with us since the '90s. This time we had the chance to talk to a living legend in customer service, the Karlskoga-based Fredric Calle Carlsson who made his first day of employment on Lucia Day in 1993.
Image: Calle's first access card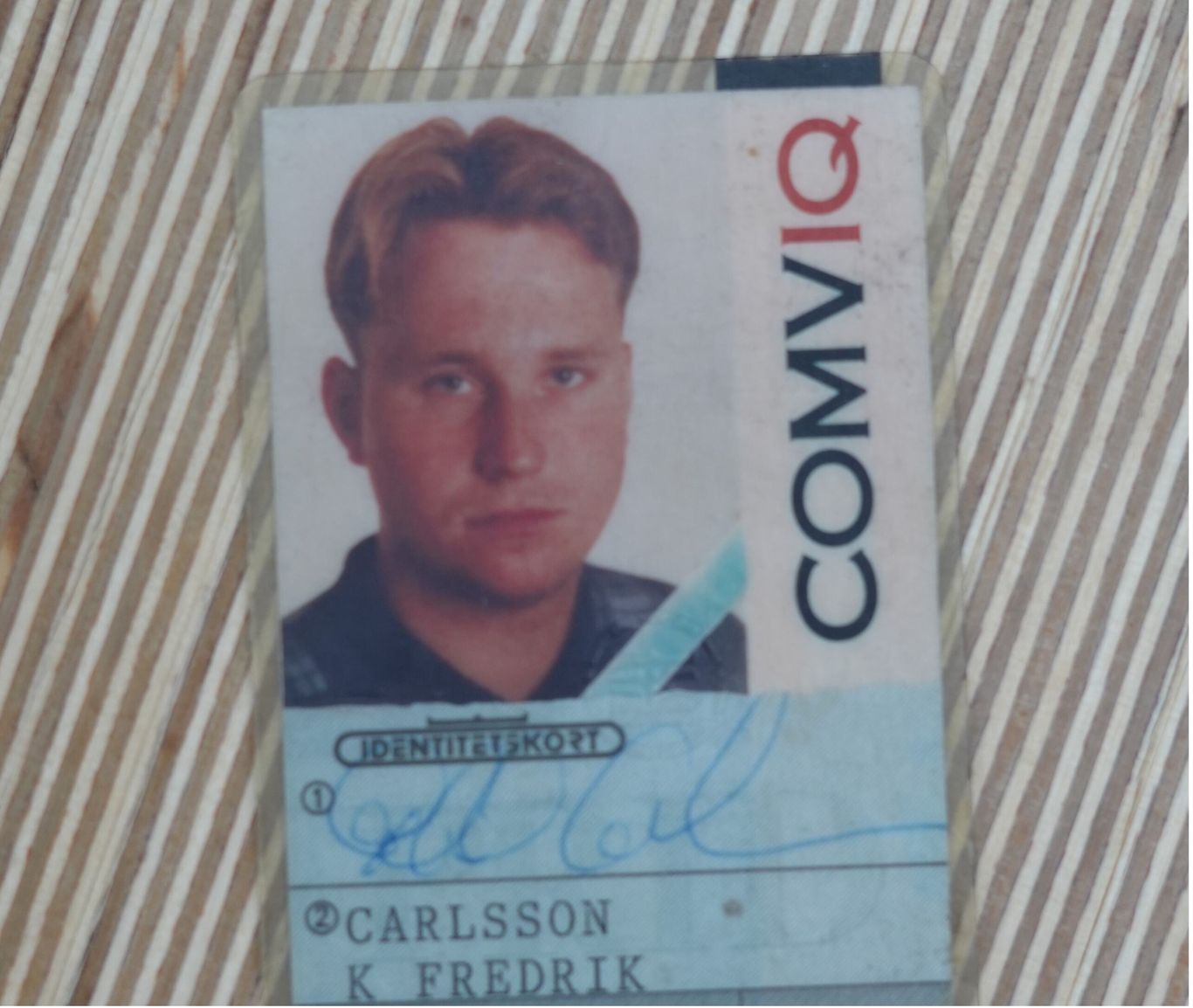 Tell us Calle, how did you end up at Tele2?
It is a funny misunderstanding, I actually applied to Kabelvision, which had its offices in the same building. When I was there for the interview, I met an acquaintance who worked at Comviq, he understood that I was looking for a job and spoke highly of me. Instead, I was called for an interview at what was then Comviq. A few more interviews later, I was offered a job in customer service.
What was it like working in customer service back then?
The nature of the conversations back then and now somewhat resembles each other. The big difference is how we solve it. In the '90s, when everything was new, a lot was about teaching the customer how a mobile phone worked. A normal customer call could sound like this:
Customer: I can't receive calls
Me: Do you have the phone with you, can you turn the phone on?
Customer: Yes, wait a minute
Me: Does it say Comviq in the display?
Customer: Yes, now
Me: Then I'll try to call
To which the customer replies and we find that it works.
Customer: Does the phone have to be on?
Me: Yes, it does.
Customer: But won't the battery run out?
What are the biggest differences at Tele2 as a workplace today compared to 1993?
When I started, we were a small company where everyone knew everyone, now we are a bit bigger. As an example, I had to work by myself in customer service even in the late hours, between 22-00, in the beginning. Then you had to call customer service from another phone to be able to take a short break, or to get coffee.
We see our customers in a different way than we did then. Now we are talking about full-service offerings, make sure they always have connection, entertainment, unlimited. A certain difference compared to 1993, when a call to the landline costed SEK 5.50/min.
Image: At the office in Karlskoga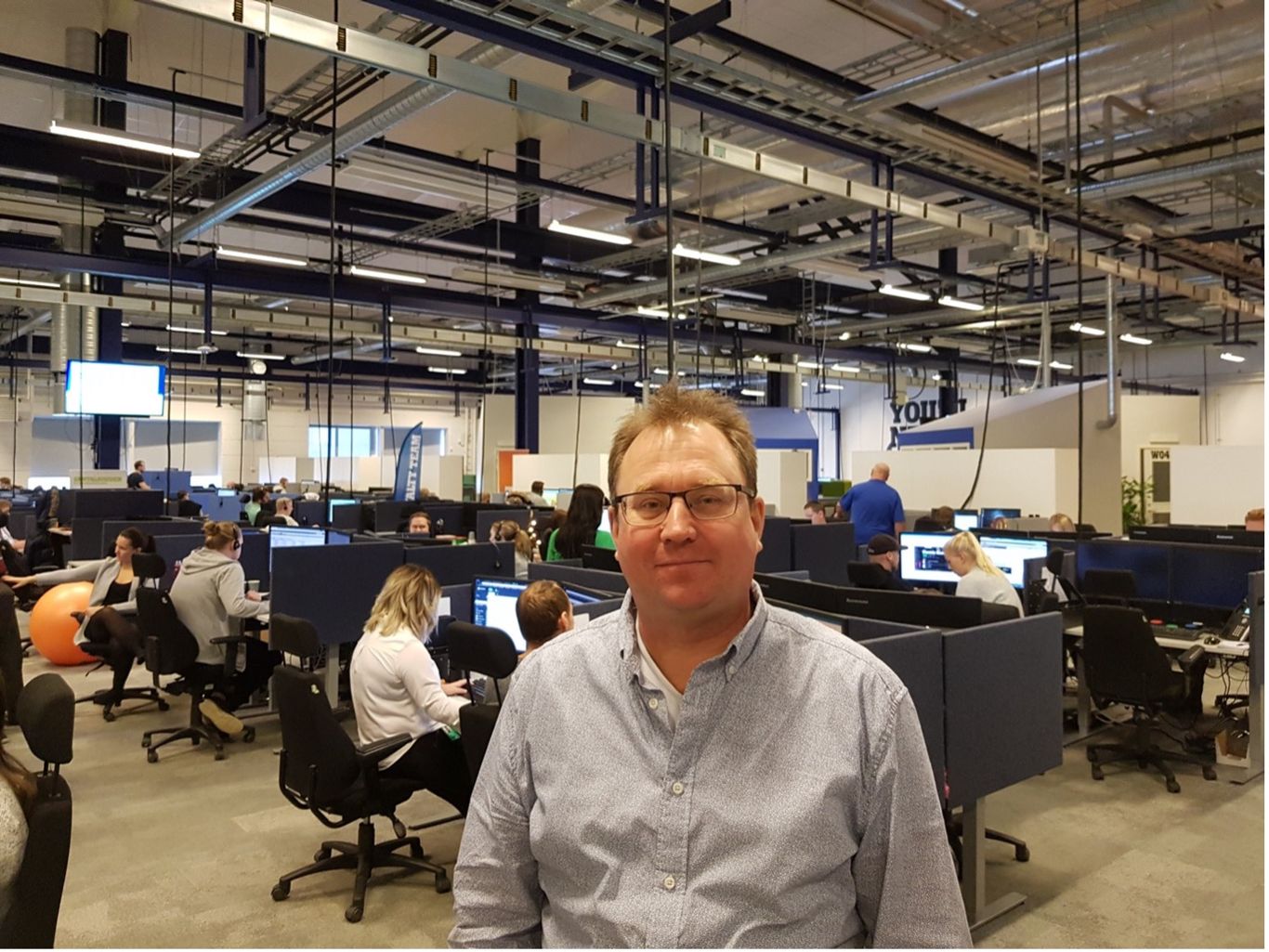 What characterize good customer service according to you?
That we listen to our customers, give them the correct answers, and solve their problems as quickly as possible. The customer usually understands and accepts that we may need time, but that we always prioritize the customer needs first and have as fast handling time as possible. It is also important that we inform customers about our product range. I like to talk about how our customers actually benefit by having their whole engagement at Tele2 (mobile, broadband and tv), and our "surf guarantee" - it's an amazing offering to our customers.
What makes Tele2 so special to you? You have been here for almost 30 years.
We are still challengers on the market – we challenge all the time. I also like the fact that we deliver something that everyone has a need for. Even though I haven't built a single function myself, I feel proud of the products and services that Tele2 delivers. It's something that I know affects everyone.
I have always liked having the customer in focus. They are the most important thing we have, and I have therefore seen no reason to change employer. I know Tele2 will continue to reason like this for another 30 years, even if I will not be working here then.
Tele2 marks 30 years since we were founded by Jan Stenbeck and the century-old telecom monopoly ended. Many things have since then and there are so many stories to tell about our heritage.