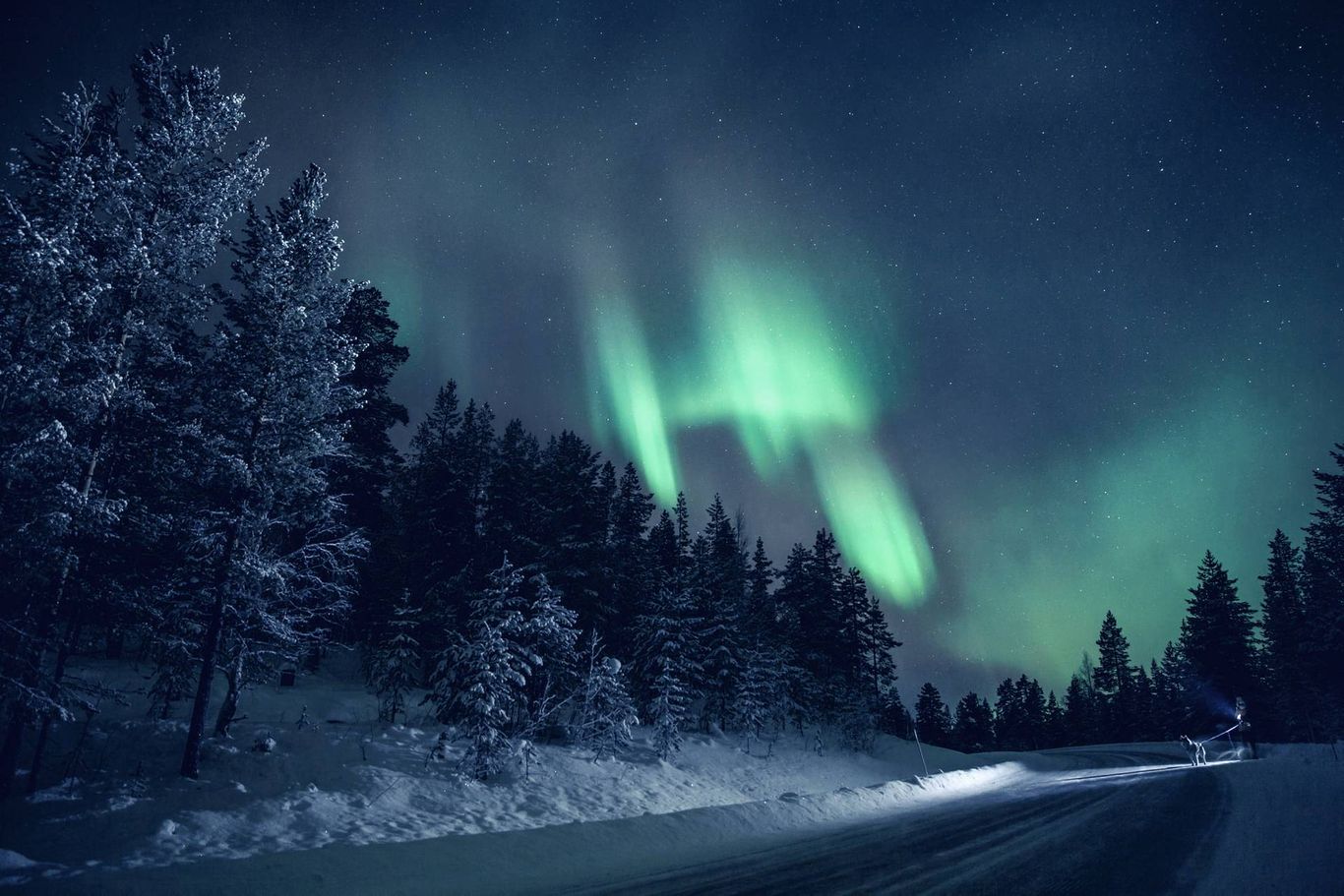 Ambitious goals, short and long term
With a vision of being the smartest telco in the world, that enables a society of unlimited possibilities, our ambition is to lead in sustainability. Climate change is an important issue for us to address, as we and our industry have historically had a negative impact on the climate, and our future success is dependent on reducing global warming.
Tele2 is climate neutral in its own operations (Scope 1 and Scope 2 according to the well-established GHG Protocol Corporate Standard). As part of our commitment to lead in sustainability, Tele2 is now aiming to also become the first telco in the markets where we operate to achieve a climate neutral value chain (Scope 3). We take our responsibility of doing our part to reduce global warming seriously and are proud that our ambitious goals have been approved by the Science-Based Target initiative (SBTi).
Tele2's SBTi-approved targets:
Tele2 commits to reduce absolute scope 1 and 2 GHG emissions 90% by 2025 and 100% by 2029 from a 2019 base year.
Tele2 commits to reduce scope 3 GHG emissions 60% per subscription by 2029 from a 2019 base year.
Tele2 had its emissions reduction targets approved by the Science-Based Targets initiative to be consistent with the required levels to meet the goals of the Paris Agreement. The targets that apply to greenhouse gas emissions from Tele2's operations (scopes 1 and 2) are consistent with reductions required to limit global warming to 1.5°C, the most ambitious goal of the Paris Agreement. Tele2's target for the emissions from its value chain (scope 3) meets the SBTi's criteria for ambitious value chain goals and are in line with current best practices.
First climate neutral telco in the Nordics and the Baltics
We are far from done, but we will celebrate every victory on the way. During the second half of 2020, a report by Morgan Stanley Research Estimates named Tele2 Europe's second-best telco in a ranking of efforts to reduce CO2 emissions. In our annual carbon disclosure to CDP we were awarded a "B" score in 2021, which puts us on par or ahead of our main competitors. The "B" score is CDP's Management band, where companies are taking coordinated action on climate issues. Tele2 is praised by CDP for our climate targets, our emissions' reduction initiatives and our governance of climate issues.
Scope 1&2 emissions (our own operations)
As of April 2020, Tele2 purchases 100 percent renewable electricity and offsets remaining emissions of greenhouse gases, such as those related to company cars.
This was the result of a long-term commitment in which the final step enabled us to decrease the group's total carbon dioxide emissions by over 90 percent, or 45,000 tons per year, in one decisive move. This is comparable to the average annual emissions of 10,000 Swedes.
90 percent of Tele2's total energy consumption is through electricity. For our own contracts in Sweden, we use 100 percent clean hydropower. In our Baltic operations we use 100 percent renewable electricity from different sources. In situations where the energy source is uncertain and not part of our own contracts, Tele2 uses guarantees of origin that are 100 percent hydropower to ensure that the electricity is renewable.
As of 1 October 2020, all new company cars (except service vehicles) are required to be electric vehicles. This is expected to result in a substantial reduction of scope 1 emissions by 2023-2024 as the current fleet of company cars is replaced by electric vehicles.
To ensure that we offset the remaining emissions, we have invested in two projects for renewable energy in India: the production of a large solar power plant in Rajasthan and a number of new wind turbines in Karnataka and Tamil Nadu. Both projects have been vetted by the UN, are certified according to Gold Standard, and aimed at fulfilling multiple UN Sustainable Development Goals.
Planned activities
Continue to exclusively purchase renewable electricity from hydro power.
Ensure that all company cars, not only new ones, should be electric vehicles by 2024. (Except service vehicles).
Evaluate how remaining energy consumption that is currently not from renewable sources, for instance back-up power generators, can be transitioned to renewable sources.
As an initial step within climate change adaptation we are following trends and alternatives for energy at our facilities, such as batteries, hydrogen, etc. in order to assess and potentially decrease dependency of the grid.
SBTi scope 1 & 2 target: Tele2 is committed to reducing absolute scope 1 and 2 GHG emissions by 90% by 2025 and 100% by 2029 using 2019 as a base year.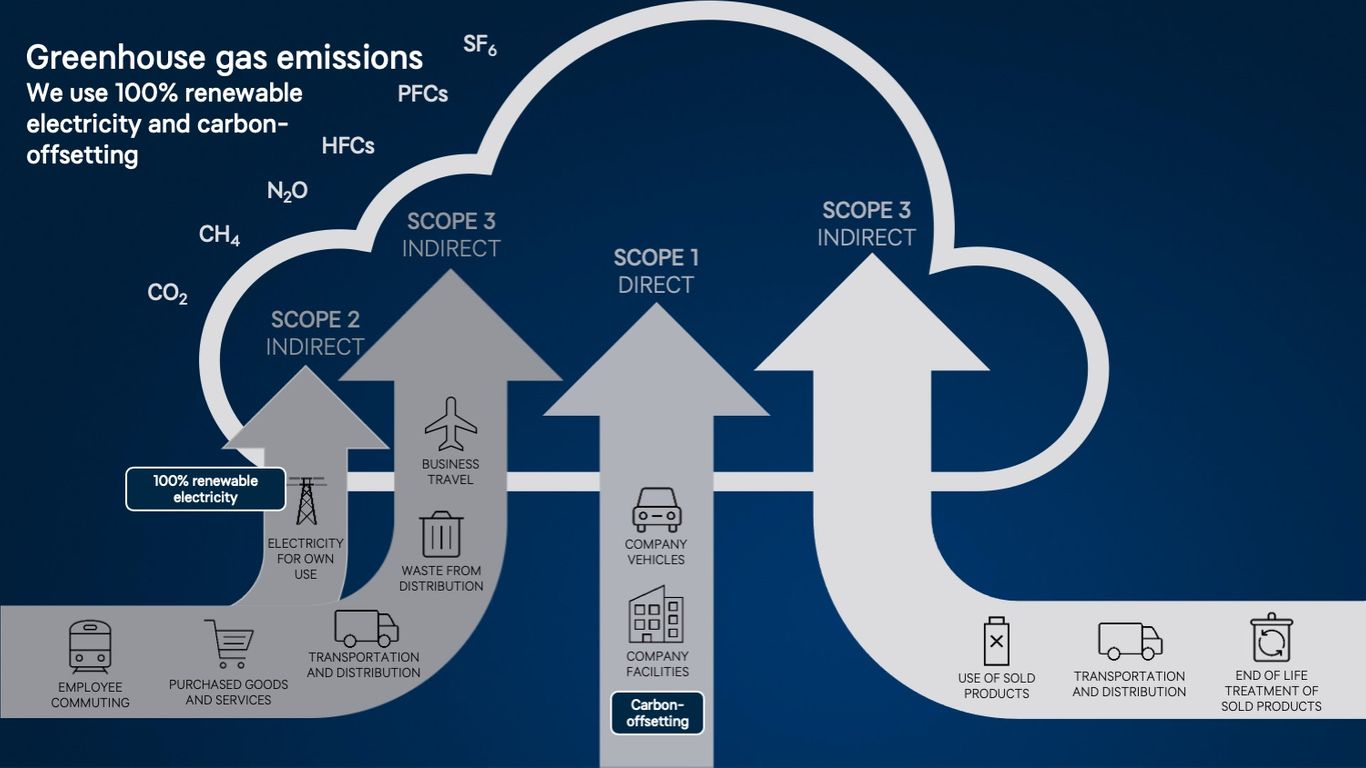 Scope 3 emissions (Our value chain)
During 2020 Tele2, with the help of external experts, conducted a materiality analysis for Other indirect (Scope 3) GHG emissions. This analysis found nine categories to be material for Tele2's scope 3 emissions. For these nine categories Tele2 collected the actual data for 2019 or used estimates in cases where actual data was not available. The nine material categories and the result of the data collection is presented in the table below.
Scope 3 emissions for 2020 was published in Q2 2021. In the future, Tele2 will include scope 3 emissions in our regular annual reporting. Starting with the Annual and Sustainability Report 2021, we will include scope 3 emissions for the reporting year.
Scope 3 figures updated 2021-06-29: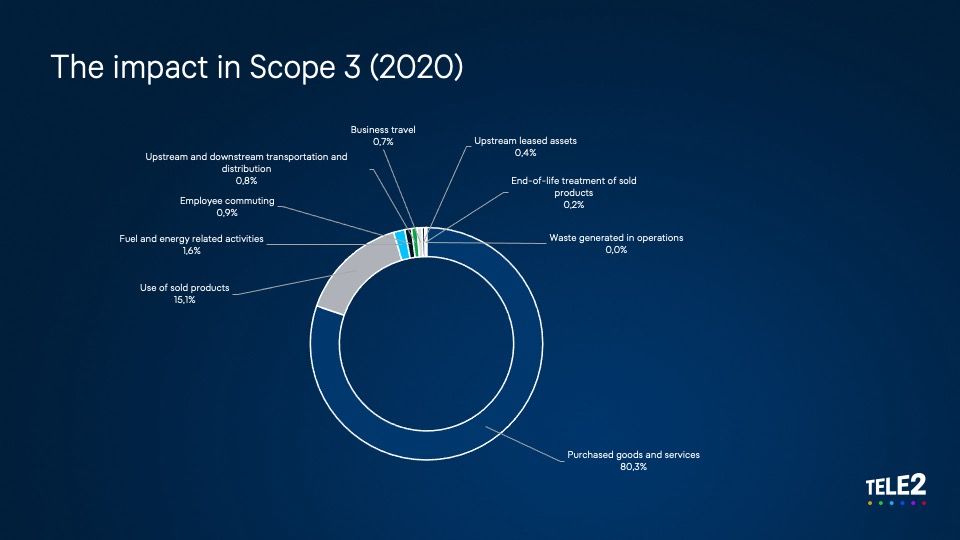 | Emissions by scope 3 category (Tons CO2-eq) | Emissions 2020 | Share % 2020 |
| --- | --- | --- |
| 1. Purchased goods and services | 150,389 | 80,3 |
| 2. Use of sold products | 28,354 | 15,1 |
| 3. Fuel and energy related activities | 2,939 | 1.6 |
| 4. Employee commuting | 1,733 | 0,9 |
| 5. Upstream and downstream transportation and distribution | 1,442 | 0,8 |
| 6. Business travel | 1,291 | 0,7 |
| 7. Upstream leased assets | 704 | 0,4 |
| 8. End-of-life treatment of sold products | 439 | 0,2 |
| 9. Waste generated in operations | 0.3 | 0,0 |
| Total | 187,292 | 100 |
In scope 3, the main source of emissions is from purchased goods and services (75%+), which means they are mainly caused by our suppliers. Since we started measuring our scope 3 emissions, we have hosted annual webinars with our suppliers on the purpose and importance of collecting scope 3 data.
Going forward, we have set a plan for communicating our targets to our suppliers:
First, we will engage in dialogue with all our top suppliers to inform them of our targets.
We will then require suppliers to put their own targets in place.
We will develop a process to monitor our suppliers' progress towards their targets to ensure they are in line with the targets that we have set (60 percent reduction by 2029).
Once these first three steps have been completed, we plan to include emissions reduction as a demand in our Business Partner Code of Conduct.
Planned activities
Engage our suppliers about our targets and encourage our suppliers to follow them by including plans on reducing emissions together.
Inform our customers about how to use the products they purchase from us in a way that reduces the climate impact of use of sold products, for instance encouraging the use of renewable electricity whenever possible.
Reduce emissions from employee commuting and business travel by choosing more environmentally friendly options.
Use renewable electricity in transportation and distribution as well as fuel and energy related activities.
SBTi scope 3 target: Tele2 is committed to reducing scope 3 GHG emissions by 60% per subscription by 2029 using 2019 as a base year.
Science Based Targets initiative (SBTi) - what is it?
The Science Based Targets initiative (SBTi) is a collaboration between CDP, the United Nations Global Compact, World Resources Institute (WRI) and the World Wide Fund for Nature (WWF). The SBTi defines and promotes best practices in science-based target setting and independently assesses companies' targets.
Science-based targets are emissions reduction goals in line with what the latest climate science says is needed to meet the goals of the Paris Agreement – limiting global warming to well-below 2°C above pre-industrial levels and pursuing efforts to limit warming to 1.5°C.
The targets also show companies how much and how quickly they need to reduce their greenhouse gas emissions in order to be consistent with keeping global warming below the most dangerous levels.
Read more about Science Based Targets initiative here.
Climate related risks and opportunities
Climate risks are integral to Tele2's Enterprise Risk Management framework and is considered as a strategic risk. Our Board and Executive Management own the monitoring and mitigation of this risk. The framework principles including compliance to our Enterprise Risk Management policies and procedures are applicable to Climate Risks as well. Refer our Risk Management page for a detailed description.
In the Enterprise Risk Management section of our annual report, where we list our most important strategic risks where we describe our climate risk as well and describe it as follows:
The transition to a low carbon economy is associated with transitional risk, e.g. policy, liability or technology risks, that may all incur additional costs. Climate change is increasingly driving regulation and taxation related to reduction of greenhouse gas emissions and the use of fossil fuels. Increasing scarcity of natural resources, particularly rare minerals used in network and consumer technology hardware, may lead to increased hardware costs. Increasing energy costs, Greenhouse Gas (GHG) emissions taxation and price increases caused by natural resource scarcity may incur additional costs.
In its first TCFD report published by Tele2 in 2021, we have listed various scenarios of the climate risk and described our assessment of these scenarios from the perspective of impact and implications of each risk scenario.
The assessment of climate risks showed us that although our climate risk exposure is lower compared to other sectors such as heavy industry, materials and buildings or agriculture, we must work proactively to mitigate the risks associated with climate change. Our work with climate risks is admittedly at the early stages and we acknowledge that we must work to increase the capacity and know-how of how to deal with climate risks and what they entail, dispersing climate change knowledge throughout the organization. What we do know is that the risks associated with climate change will only grow bigger with time, and as such, climate risks are listed as one of the risks in our strategic risk registry. This means that there is a strong effort made by the Group Leadership Team to discuss, evaluate and mitigate the climate risks.
Our key risk mitigation activities are:
Periodic risk workshops conducted to identify and assess climate risks.
During 2020, Tele2 has transitioned to renewable electricity and has certified the Environmental Management System according to Svensk Miljöbas.
We are working to reduce our emissions of GHG emissions as quickly as possible to reduce our transitional risk.
We have transitioned to renewable electricity and are gradually transitioning to renewable energy when feasible.
Make our networks more energy efficient by taking a leading position in the AI4Green research project.
Continued efforts to reduce e-waste.
Continued follow-up to ensure compliance with relevant environmental laws and regulations.
As an initial step within climate change adaptation we are following trends and alternatives for energy at our facilities, such as batteries, hydrogen, etc. in order to assess and potentially decrease dependency of the grid.
A detailed description of the climate risk management can be read in the TCFD report.