Johan Knape, Executive IoT CEO Trainee
How did you learn about the Tele2 Executive trainee program?
I heard about the Executive Trainee Program through word-of-mouth basically. Several people had pointed out the Executive Trainee Program at Tele2 as the one to go for. I did my own LinkedIn research and realized it was an amazing fit for my career goals.
What made you decide to apply for the trainee program?
I realized that the Tele2 Executive trainee program really stood out as a top management focused springboard within a fast moving industry. Having the chance to work with top executives at an early stage in your career is a once in a lifetime experience that can greatly affect you career.
What made Tele2 stand out from other employers?
After the merger with Com Hem, Tele2 is in a very interesting position where two cultures are merging into one. Seeing that up close is a fantastic opportunity. Moreover, the combination of management and technology gives me a tremendous advantage compared to what many other employers could offer.
What did you do before you entered the trainee program?
I have been studying for 6,5 years at 5 different universities worldwide. My majors were in Strategic Management at Lund University and Innovation & Industrial Management at Gothenburg University Schools of Economics, Business & law. I have spent a lot of time at the student union for business students in Lund, LundaEkonomerna, where I was in charge of the introduction week and a board member. I have had internships at L'Oréal, Tetra Pak and EF, but I have also worked at Coop and been a Stevedore at APM terminals. So, you could say that I have been a bit all over the place.
What surprised you the most when you started?
The amount of information and trust I was given instantly. Already the first days I was working with top management at Tele2 and felt that I had an important role from the beginning. One could tell that Tele2 is experienced with trainees because I had a clear role and expectations to deliver from day one.
How does your work at Tele2 challenge you?
It is a rapid and everchanging environment that challenge me every day. One day never looks the same and you never know what to expect. Which is so much fun!
Describe a typical day at work?
I read up on emails while eating breakfast in the morning. When I come to the office I try to go through the day together with my Executive, being on top of both mine and his/her calendar. Then I tag along to interesting internal or external meetings. I prepare material for important meetings or help other leadership team members with tasks. In the afternoon I hopefully have some time to work on some of my own projects. But as I mentioned before, one day never looks like the other. Tomorrow, I am flying to Riga for example.
How does Tele2 support your development?
The Executive Trainee Program creates a structure and foundation for us trainees. Both in terms of the social interactions between the trainees and the insight to various departments of Tele2 through them. The Executive Trainee program also enables you to develop further through mentorships and internal & external educations which helps you in your daily work.
What are your hobbies or passions outside of work?
Being an old track athlete, I still try to run and exercise as much as possible. During the winter I love skiing and having moved to Stockholm I am looking forward to try out Hammarbybacken, haha. I also have a nerdy interest when it comes to cars and I have travelled to many different Auto Shows throughout the years.
Best experience at Tele2 so far:
It must be being part of tough decisions, heated meetings and see what I have learnt at university being applied in real life… times ten. In other words, every day as a trainee!
What is your best career advice for students who are about to start their careers?
Who am I to tell you? (Sometimes I have a hard time realizing I am not a student anymore, haha) I went for it, so should you. Aim high and never think that you are any less than any of your competitors. It is your goal. It is up to you to reach it.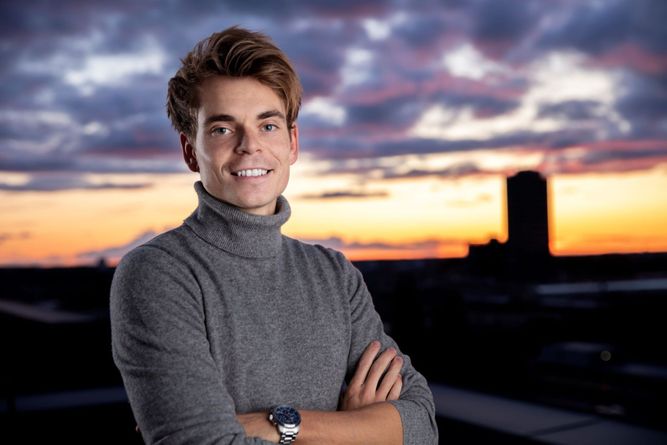 Having the chance to work with top executives at an early stage is a once in a lifetime experience that can greatly affect you career.
- Johan Knape, Executive IoT CEO Trainee