Inger Marshall, Head of Data Driven Excellence
What do you do at Tele2?
I am the head of Data Driven Excellence, a division within the Tele2's business unit Technology, with the mission to enable the organization to use data, telco processes and an agile mindset to continuously learn, improve and develop. This means that together with my team of process and operational architects, data analysts, change agents and agile coaches whose main focus is to support the rest of the Technology unit, we support the transformation of our ways of working to provide the most stable network and telecom services to our customers. And we try to have a lot of fun at the same time.
How did you end up in this position?
I joined Tele2 with the merge with Com Hem where I had the role of development manager for the OSS department. This was a large team of developers responsible for the delivering operational support systems to internal customers throughout Com Hem. I had various roles withing Com Hem since joining the company in 2012, prior to that I worked at Electronic Arts, one of the world's leading games developers, where I managed teams at an international level in charge of localization.
What challenges are you facing right now?
Not only are we changing our way of working, we are transforming our company altogether, moving from working primarily in projects to a more agile way of working, at the same time as maintaining the stability required in the network and in our services. This means that we need to be anchored in joint values as well as reliable processes. Just before Christmas our leadership team shared the new vision for Tele2, and we are in the process of clarifying what this means to all our employees, how we can all engage and all be a part of this positive movement to become the world's smartest telco. Change takes time but will be worth all our efforts!
What are your expectations on new employees joining your unit?
I expect that new employees are eager to learn all about Tele2, and that with their skills and capabilities they will support the transition. You need to be inquisitive and also able to question how things are done and not shy away from taking responsibility, even for things outside of your immediate role. I also expect you to be curious and to contribute to our continuous improvement, that you are generous with your knowledge and kind.
What can one expect as an employee working in your unit?
My division plays a huge role in the transformation we are trying to achieve. This means that you will need to meet people in our business daily since a main task is to facilitate and coach co-workers towards our goals. The rest of the Technology unit is dependent on us to teach them how to change ways of working and behaviors and this means engaging with stakeholders and teams. You will also have a stake in influencing our progress and making sure we live as we learn.
How would you describe the Tele2 culture?
I really appreciate how open and encouraging our culture is. We are building a collaborative culture, trying to break down silos and we have the support from our leaders to be fearless. We also have the trust needed to experiment and learn from mistakes, and we are all moving towards a common vision, which is great.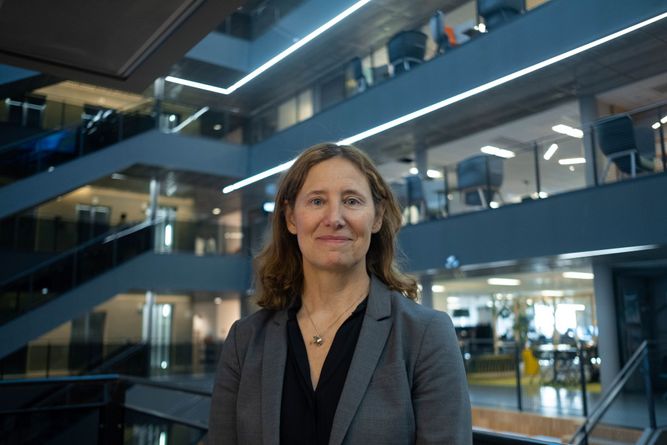 I expect you to be curious and to contribute to our continuous improvement, that you are generous with your knowledge and kind

.
- Inger Marshall, Head of Data Driven Excellence