Maximilian Linder, Executive B2B Trainee
What does it mean being a B2B trainee?
Being a B2B trainee means you are knee-deep in the commercial side of Tele2 focusing on Business-to-Business operations. The B2B unit consists of around 1 000 employees and deliver products and solutions to companies and public sector clients of all sizes.
As the EVP B2B trainee, you will primarily work with the Executive Vice President, B2B and the B2B leadership team. Parallel to more recurring work such as preparing material to the board of Tele2, you will engage in various projects within the different B2B units, such as Product Management, Delivery & Operations and IoT (Internet of Things).
Which is your favorite company value?
Fearless. Not dwelling unnecessarily long on decisions and making clear prioritizations is something I believe in personally and really respect with the culture at Tele2.
What is your best career advice for students who are about to start their careers?
Don't be afraid to change the course of your career. I had tried both consulting and finance before finding the trainee program at Tele2 and couldn't be happier that I took the decision to apply and change jobs.
Why did you choose to apply for a trainee program
First, an executive trainee program is an unbeatable career springboard. Second, I wanted to get experience working with both strategy and operations at a large company.
What is most interesting/exciting with working at Tele2?
Definitely the importance of Tele2's services to society. High quality connectivity is critical for society to function properly, and perhaps even more so now during Covid-19. Businesses, hospitals and private individuals rely on the services of Tele2, making the job far more exciting!
What is the working environment like?
Supportive and developing. Colleagues support each other and ensure everyone has what they need to deliver the best results possible and develop as much as possible.
How do you spend your free time?
I am a self-proclaimed musician and try to spend some spare hours each week practicing and playing with others. Other than that, I enjoy skiing, hiking and travelling when possible.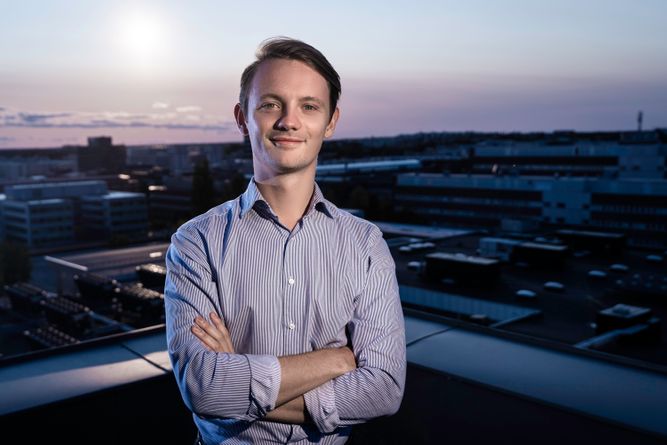 Having the chance to work with top executives at an early stage is a once in a lifetime experience that can greatly affect you career.
- Maximilian Linder, Executive B2B Trainee