Rebecca Wetterberg, Executive CEO Trainee
How did you learn about the Tele2 Executive trainee program?
I was highly motivated to do a traineeship after graduating, so I started last winter to search for different trainee programs. I knew about a few from before, but I found Tele2 at a website in late December and sent in my application early New Year's Eve.
What made you decide to apply for the trainee program?
First and foremost, the job ad caught my interest. It sounded challenging, interesting, and most important unique compared to other companies'. Few trainee programs I know about is structured like Tele2's. I like being in constant change and to push my limits, so when I realized that no day won't look the same I was sold.
What made Tele2 stand out from other employers?
I felt pretty quick that this was a perfect match. I usually start looking at the values of the organization, as they often work as a guiding star. I like to think – how do I feel about these values and how can I apply them to real-life situations? Looking at the values of Tele2, it became clear that standing still means losing track. The need of constant adaptability and flexibility was appealing and something I'd been looking for when searching for a relevant future employer.
What did you do before you entered the trainee program?
I was part of the national team in dance for many years but getting older I wanted to try something completely new. I quit dancing and became an assistant store manager in Oslo and worked there for a couple of years. I then studied 4,5 years at Lund university and 6 months in Sydney. I have a bachelor's degree in Service Management (specialization in Retail) and a master's degree in 'Managing people, knowledge and change'. I'm a restless soul, so parallel to my studies I've been highly involved in several student commitments and worked part time as a recruitment assistant and job coach.
What surprised you the most when you started?
In my role, I have a few bigger projects throughout the year (e.g. the annual general meeting) and weekly leadership team meetings which I'm responsible for. Additionally, I do follow my Executive on weekly meetings in order to learn and strengthen my understanding about Tele2. That being said, what surprised me the most is that my role is more flexible than I expected and it requires that I take own initiatives.
How does your work at Tele2 challenge you?
I must say in every single way because I own my development and success. It is up to me how I want to structure my days which can be a bit of a challenge, as every day looks different. Parallel to making sure that my projects are up and running, I constantly need to be ready to quickly adapt to things that will happen in the company this upcoming year. But just to be clear- this is the exciting part and what makes my position so much fun and interesting!
Describe a typical day at work?
It is a cliché, but no day will ever look the same. Starting a trainee position here, you need to be aware of the fact that there's no typical days at work here. If you like to have your calendar strictly planned and have everything in control, this isn't for you.
How does Tele2 support your development?
I must say that the trainee program in itself supports my development. How many trainee programs have you heard about where you are allowed to follow and work with an executive on a daily basis? Just being able to participate in meetings with different managers and projects is developing. Additionally, we get trainings in storytelling, leadership skills, time management and more which is beneficial for you both on a professional and personal level.
What are your hobbies or passions outside of work?
Being active has been and will always be a big part of my life. It is something I prioritize no matter what in order to stay both happy and productive. Besides that, my biggest passion in life is to travel. It is amazing to gain new perspectives by learning from other cultures, the history of the countries and get new friends all over the world.
Best experience at Tele2 so far:
I was invited to join an off-site the whole leadership team was going to. I got to be a part of interesting and exciting workshops and discussions, which made me realize that this job is really something special. Alongside to that, my ambitious trainee colleagues and I have had some fun times together both at and outside work. Even though we're working with completely different things, you always have their support and someone that share similar experiences. That is highly valuable!
What is your best career advice for students who are about to start their careers?
First, be yourself in every situation. Secondly, remember that it is more than OK to do mistakes as long as you learn from it. No one is perfect and everyone has been in this starting career phase that you're in. If you're unsure, ask questions to clarify your doubts. Last but not least, always strive for success but don't forget to stay humble along the way.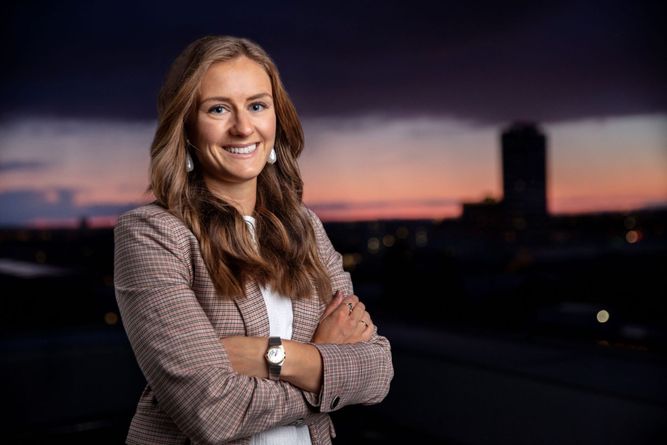 It is a cliché, but no day will ever look the same.
- Rebecca Wetterberg