Tove Arrelid, Executive Trainee EVP Strategy & Business
How did you learn about the Tele2 Executive trainee program?
I remember I heard about the program during my first years of studies, and when it was time for me to start applying for jobs, Tele2 was on top of my mind. After reading more and talking to previous trainees, I felt it was the challenge I was looking for.
What made you decide to apply for the trainee program?
A trainee program is a once in a lifetime experience that offers a steep learning curve. Working close with an executive for an entire year gives you an overview and understanding of the entire business which will be a great platform also for the next step in my career.
What made Tele2 stand out from other employers?
Tele2's trainee program is well established and I preferred working continuously with one executive rather than rotating every three months or so. Furthermore, the culture and challenger history of Tele2 excited me.
What did you do before you entered the trainee program?
In June, I graduated from the Industrial Engineering and Management program at Chalmers University of Technology in Gothenburg. During my masters I also enjoyed an exchange semester at Politecnico di Milano in Italy, as well as six months in Germany becoming a sneakers nerd when doing an internship at adidas.
What surprised you the most when you started?
It has been less than a year since one of the largest mergers in Swedish history and yet the company feels as one. Of course, there are still many integration projects going on, but I am surprised by the major transformation that has happened while the business is still running.
How does your work at Tele2 challenge you?
I am challenged every day! Being involved in several projects in parallel and contributing to the discussions requires that you are up to speed with what's going on – both in the company and in the market. But being challenged and putting a lot of energy into something comes with great rewards!
Describe a typical day at work?
A great mix of meetings, material preparation and project workshops. Working with strategy and business development means that we evaluate future business opportunities for Tele2, and that involves a lot of market research, analysis and business case calculations. But no day are the same!
How does Tele2 support your development?
My executive and I have set up development goals for me that we follow up on a regular basis. This is valuable to me both to structure my work, but also to make the most out of my trainee-year. The trainee program comes with several trainings and there are opportunities to get involved in whatever you are curious about. If you are proactive, there will be no one hindering you but rather supporting you along the way!
What are your hobbies or passions outside of work?
My most recent found passion is padel tennis and I love the social yet strategical part of the game. Some of my friends say I spent more time at the court than writing on my master thesis.. It's so much fun and I recommend everyone to try it! Next week, I am taking my entire team to play :)
Best experience at Tele2 so far
I co-hosted a full day workshop for the leadership team of Business Intelligence & Analytics. Since this area has such a strategical importance for Tele2, it was super exciting being a part of shaping the targets and way forward.
What is your best career advice for students who are about to start their careers?
Take time to reflect upon yourself, what kind of culture you would like to work in and what kind of tasks and projects that engages you. Visit the companies you are interested in and get a feel for the people working there. If you have your own values clear, it is much easier to sort among what companies you would like to apply for – and you are well prepared for the interview when you know why you have applied in the first place.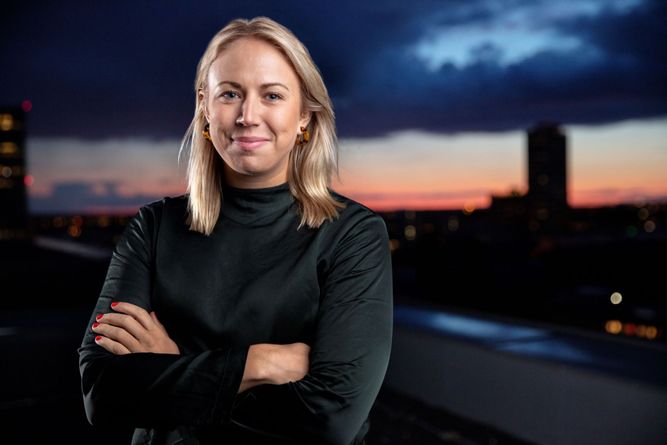 Being challenged and putting a lot of energy into something comes with great rewards!
- Tove Arrelid, Executive Trainee EVP Strategy & Business